Skinimalism and no-makeup makeup have been two of the biggest beauty trends of 2021. Many of us are simplifying our routines and focusing on products that nourish and replenish the skin, creating a gorgeous 'my skin but better' look.
With skinimalism on the rise, it comes as no surprise that the heavy facial contouring that was once so popular is being replaced by a subtler alternative: soft sculpting.
Discover all there is to know about this new take on contouring and learn how to soft sculpt your face flawlessly with a quick three-step tutorial.
What is soft sculpting?
Soft sculpting is a makeup technique that adds a natural definition to the face, without creating harsh lines or modifying your features. It uses a light-handed application (and a lot less product) to subtly enhance your natural features, and for many, it's becoming the preferred foundation for everyday makeup looks.
Not only is it refreshing, but this 'less is more' approach to contouring is a lot easier to master, making it the perfect technique for makeup pros and beginners alike.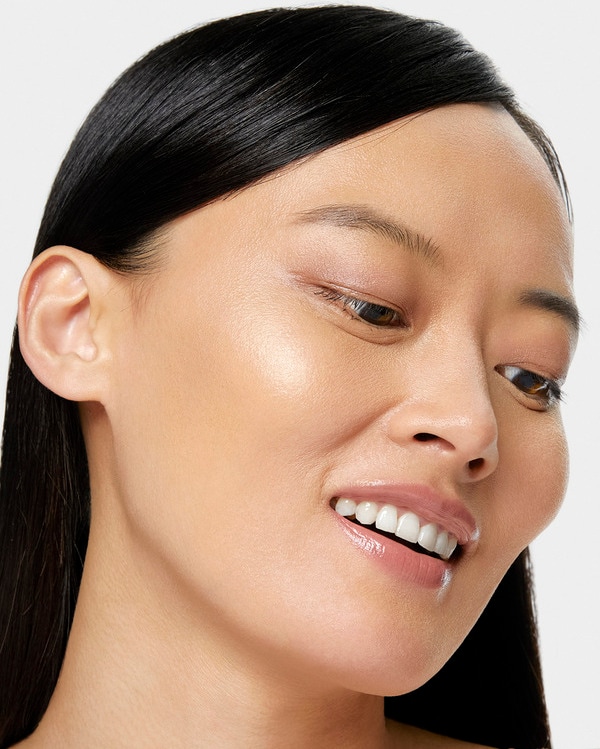 How to contour your face: Our soft sculpting tutorial
Learn how to contour and highlight your face with a minimalist technique, using three nourishing products that combine skincare and makeup all in one.
Soft sculpting looks best on moisturised skin, so before you start contouring make sure to apply a lightweight dewy moisturiser like our Moisture Surge 100H Auto-Replenishing Hydrator.
Step 1: Contour your cheekbones
The first step when soft sculpting your face is to accentuate your cheekbones. We recommend opting for a cream contour or bronzer, as it will melt easier into your skin to create an even complexion.
Apply the contour or bronzer above the hollows of your cheekbones and blend it well using an upwards motion towards your hairline, to add a sun-kissed tone to the skin. Remember to go light on the product to make it look as subtle as possible.
Our suggestion: Chubby Stick Sculpting Contour
Long-wearing and oil-free, our Chubby Stick Sculpting Contour creates the illusion of depth and leaves a matte, sunkissed finish on the skin.
This creamy contouring stick is easy to blend, making it suitable for any look. Simply apply a light layer for an effortless natural makeup or, for special occasions, build it up to achieve a more dramatic look.
Although you can blend your contour with your fingertips, using a brush can also help you achieve the seamless definition you're looking for.
Step 2: Apply blush to the apples of your cheeks
After contouring your cheekbones, it's time to add a flush colour, which will make your skin look healthier, while also adding dimension to your complexion.
For a flawless application, smile and apply the blush on the apples of your cheeks. Additionally, pop a touch of colour on your nose, chin and forehead, making sure to use a minimal amount of product.
Our suggestion: Chubby Stick Cheek Colour Balm
Available in three rosy shades that compliment any skin tone, our Chubby Stick Cheek Colour Balm is a creamy blush that creates a healthy-looking glow in an instant.
Thanks to its convenient stick form and moisturising ingredients, including Lecithin, Squalane and Vitamin E, this mistake-proof cheek pigment glides smoothly onto the cheeks for an 8-hour naturally dewy finish.
Simply dot the product on your skin and blend it gently using your fingertips, no mirror necessary. The final result can go from a minimalist sheer wash of colour to a real healthy flush, you choose.
Step 3: Highlight the high points of your face
What's facial contouring without highlighting? To finish off your soft sculpting look, add a subtle contrast and lit-from-within radiance to your skin by brightening the high points of your face. We suggest going for a creamy or liquid highlighter as, once again, it will make the application process easy and the final result seamless, without any shine or cakiness.
Apply it lightly to the tops of your cheekbones, cupid's bow, brow bones and bridge of your nose - the areas of your face that naturally catch light during the day.
Our suggestion: Chubby Stick Sculpting Highlight
Developed with a creamy texture, our Chubby Stick Sculpting Highlight is a highlighting stick with light-reflecting optics that glides on smooth and brings your best features forward. Similar to the bronzer and blush, this long-wearing highlighter is versatile: one quick swipe is perfect for a no-makeup makeup look, but you can easily build up the product to achieve a bolder effect.
Don't forget to make sure that your contour and highlight blend together flawlessly and that the rosy colour on your cheeks looks like it could be real. If necessary, use a buffing brush on your entire face to bring the different pigments together and create a smooth complexion.
Are you joining the skinimalism trend? We're all for it! Clinique's makeup range is supercharged with skin-loving ingredients and science-backed formulas that nourish the skin from within, improving its appearance instantly, but also in the long run. Give our soft sculpting tips a try and create a natural makeup look you'll want to wear every single day!