For New York City-based entrepreneur Laney Crowell, there's no such thing as a slow day. She's a modern multi-hyphenate in every sense of the word—a consultant, creative director, foodie and wellness expert. The Moment with the mission to redefine conversations about beauty and wellness. "People are eating and exercising out of fear, in hopes of feeling more beautiful," says Laney. "But that's not how it works. Beauty comes from joy. You should love what you're eating, you should be working out to feel good, and choosing your beauty products because they enhance you, not change you. We believe beauty is a feeling, not a physical attribute."
Laney is indeed the ultimate entrepreneur on the go—and what's most enviable, is that her skin is always glowing. "For me, well-hydrated skin is essential to looking energized and youthful, no matter what," she says. And that's not just her personal opinion—it's science. Recent studies have shown that everyday activities like traveling, pulling long hours at the office, and working out—all of which sum up Laney's world—can actually sap litres of water from your skin. "On top of the stress of being so busy, my skin is naturally dry and sensitive, so I look for intense hydrators that aren't too heavy so that I can use it anywhere, anytime," says Laney.
Her new go-to: Moisture Surge Hydrating Supercharged Concentrate, which provides the intense hydration of a rich moisturiser, but in an ultra-light water-gel texture. "I love how lightweight it is, which makes it the perfect base for makeup and I can even apply it over my makeup or around my eyes when I need an extra boost." Loaded with skin-plumping hyaluronic acid and skin-protecting antioxidants, this new mega moisturising multi-tasker helps keep her glowing 24/7. Here's how: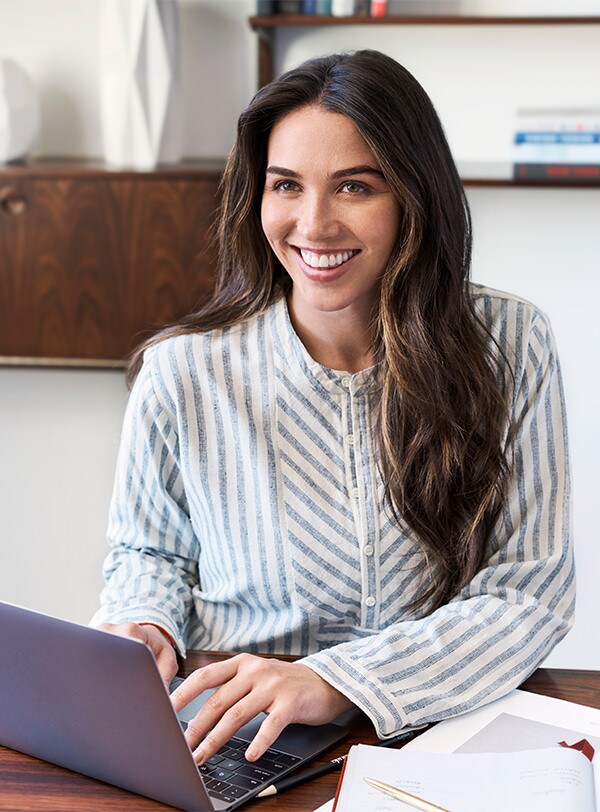 The antidote to overworked, tired skin.
Running her own lifestyle empire means non-stop networking, meetings and long hours on the laptop. "There's always a photoshoot or important meeting that keeps me from having a set schedule," says Laney. "It definitely keeps things interesting."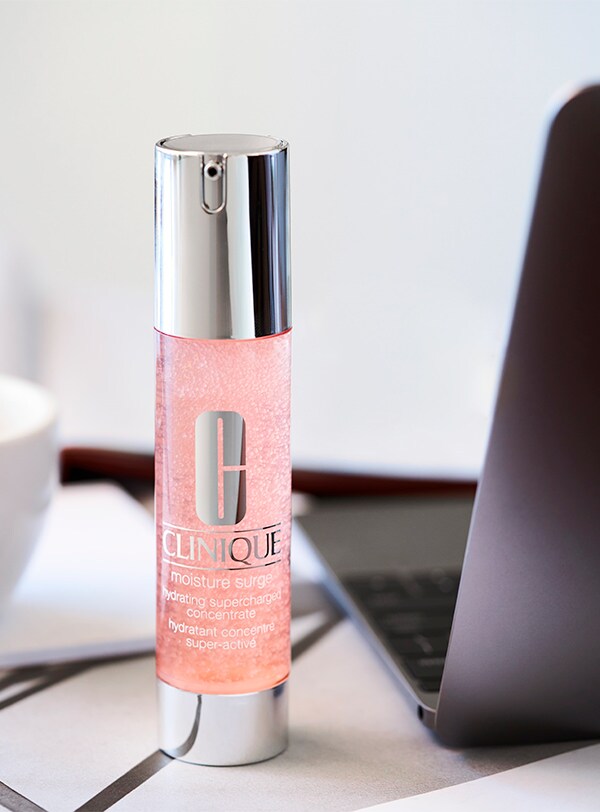 Fact: After 8 hours at the office, your skin loses nearly a half-litre of water, thanks to prolonged exposure to moisture-zapping indoor air. When Laney starts to feel the burnout, she finds comfort with an energising green tea and refreshes her skin by tapping Moisture Surge Supercharged Concentrate directly over her makeup. Formulated with hyaluronic acid, it instantly plumps and hydrates and leaves skin with a dewy finish, while also refreshing her makeup.
A must-have travel companion.
Not only is Laney bicoastal, splitting her time between New York and Los Angeles, but she also travels non-stop. The most recent stamps in her passport: Vietnam, Cambodia and Scotland to name a few.
Fact: Your skin can lose up to a half litre of water in a 7 hour flight due to dry airplane air that saps moisture from your skin. "I always pack a multi-purpose hydrator in my carry on," says Laney. "I like that I can even use Moisture Surge Supercharged Concentrate around my eyes mid-flight to fend off any jet-lagged puffiness." Moisture-magnet polymers grab onto and lock in moisture so skin stays hydrated, even through drastic changes in temperature and humidity. It also has encapsulated vitamin C and E that burst open on application to release potent antioxidants, which help fend off the free radical damage that can lead to dryness.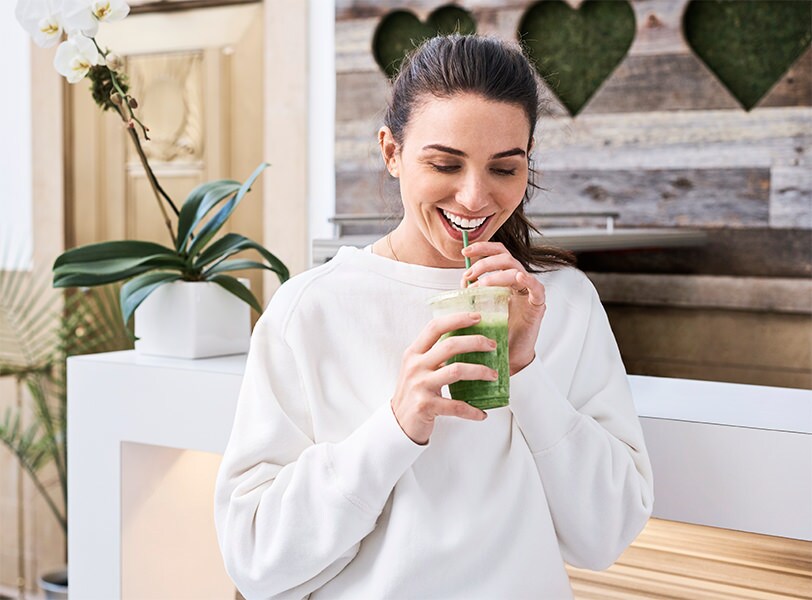 The post-workout replenisher.
Laney always fits at least an hour of working out into her day. "Exercising makes me feel so much more centered and energised, even when I'm tired," says Laney. Her go-to is a high intensity sweat session at Tracy Anderson, where the classrooms are heated to 86 degrees with 69 percent humidity.
Fact: In a 45 minute workout, your skin loses almost a litre of water through sweat. "All that sweating leaves my face feeling dry, so after washing my skin, hydration is a must," says Laney. Moisture Surge Supercharged Concentrate feels immediately cooling and absorbs instantly, leaving skin refreshed, rehydrated and prepped for makeup. Soothing caffeine and algae extract also help to minimise any post-workout irritation. Laney applies it all over in sweeping circular motions to amp up that post-workout glow. And, of course, always swears by this beautifying smoothie.
Photos: Sally Griffiths | Words: Hilary Presley | Hair & Makeup: Jillian Halouska | Shot on location at Tracy Anderson Tribeca and Spring Place