Everyone has a desert island beauty product. The one with transformative superpowers that can pull your whole look together in seconds. For many of us, it's mascara. One coat can make you look bright eyed and awake, even when you're not feeling it. But if you have sensitive eyes, mascara can be a can't-live-with-it-can't-live-without-it daily struggle. Stinging, burning and swollen lids, bloodshot eyes, or all of the above, isn't the wide-eyed look you're after.
"There are many conditions that can make someone's eyes more sensitive than others," says Catherine Orentreich, M.D., a New York City-based board certified dermatologist and guiding dermatologist for Clinique. From skin conditions like eczema, rosacea or seborrhea to seasonal or topical allergies, the eyes are exceptionally susceptible to irritation. "Eyelid skin is extremely thin and has fewer oil glands than other areas of the skin," says Dr. Orentreich. This causes a two-fold problem: Thin skin is more easily damaged, and less oil means drier skin, which is more easily irritated.
Can mascara even be in the beauty arsenal of someone who has sensitive eyes? Yes. Here are seven mascara secrets that can make daily wear a breeze, even if you're prone to full-blown mascara meltdowns.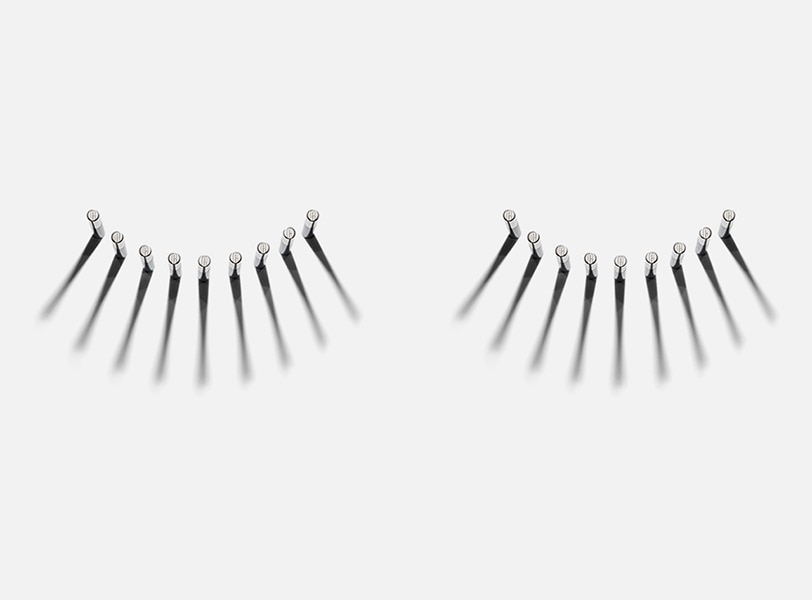 1. Better safe than sorry.
Many things can cause sensitivity to mascara. Always play it safe and look for mascara that is allergy tested, fragrance free and ophthalmologist tested. Hint: All Clinique mascaras pass the test, which is why they are one of the most recommended mascaras by dermatologists and ophthalmologists. Every single formula goes through 7,200 tests, and if there's even one reaction, it's reformulated. Here's the really surprising news: Just because it's safe for sensitive eyes, doesn't mean you have to sacrifice wow-factor. Have it all with Lash Power Mascara Long-Wearing Formula, a high-tech gel formula that lengthens lashes, doesn't flake or smudge, is tear-resistant and waterproof in cold water, yet wipes away easily with just warm water.
2. Patch test it.
Just as dermatologists recommend to test a new hair dye or depilatory on a small area of skin to see if you develop a reaction before using it, do the same with your mascara. Swipe just a little on your outer lashes, then wait a few hours. Feel good? Then finish up a full application.
3. Don't get too close.
When applying mascara, don't get too close to the lash line to avoid letting any mascara seep into your sensitive lids. Wiggle the brush head into the very middle of your lashes, then gently sweep it out to the tips.
4. Skip the nail polish.
Your cute manicure might be the last thing you'd suspect as an eye irritant, but it's completely possible. Formaldehyde, often found in nail polish, gives off fumes that trigger sensitivity in eyes. Try going polish-free for a while to see if wearing mascara becomes less irritating.
5. Stick to fragrance-free creams.
Dr. Orentreich says fragrance is one of the biggest eye irritants, so take special care to also avoid scented eye, face and hand creams.
6. Remove with care.
Whatever you do, avoid rubbing your eyes while wearing mascara throughout the day. And when it comes to removing your eye makeup (which you always do before bed, right?), Dr. Orentreich says the less rubbing, the better. "Remove mascara and eye makeup in separate steps to minimise the tugging," she explains. First, saturate a cotton ball with a dual-phase, emulsifier-free makeup remover like Take The Day Off Makeup Remover For Lids, Lashes & Lips. Then gently press it over your lashes for 10 seconds, before lightly wiping off the mascara. This way, the remover has time to break down the mascara, which means fewer sweeps to get the job done. Once all of your mascara is off, then remove the rest of your makeup.
7. Live by the 6-month rule.
Don't forget that mascara has an expiration date. Toss it after six months, no matter what, and crack open a fresh new tube.
Photo: Yasu + Junko | Words: Kristen Bateman