Rosemary Ferguson has an uncanny ability to embody zeitgeist. In the '90s, she was discovered by photographer Corinne Day (alongside her best friend Kate Moss) and became a face of the grunge era. Rosemary was featured in campaigns for Miu Miu and Prada, walked the runway for everyone from Galliano to McQueen, and graced the covers of Vogue and The Face.
She now holds degrees in naturopathy and nutrition, runs a clinic in London, and recently published her first book, Juice, which features 100 recipes to make at home. It's all very 2016. "Juicing is a really easy, quick way to consume loads of nutrients. And it's amazing for your skin thanks to all the antioxidants," she says. "The right juice combination can really help rid your body of free radicals and toxins and leave your skin glowing."
Currently, Rosemary lives in a converted barn in the English countryside with her husband, artist Jake Chapman, and their daughters Elfie, Bliss, and Blythe. While it might seem dramatically different from her glamour-charged early career, there's an interesting continuity. After all, it was through modeling that Rosemary first learned about the importance of good nutrition. "I've always had a pretty healthy, balanced approach," she explains. "I am no angel, I like to have a good time. I'm a strong believer in the idea that you have to look after your mind and soul as well as your body, and I try and take care of myself."
We love a nutritionist who embraces life! To help you greet every day with pep (no matter what you might have done the night before), Rosemary recommends the following juice recipe to rev you up and boost your radiance. Drink it first thing in the morning to jump-start your day, whether you're hitting the catwalk, the Cotswolds, or the copy machine. P.S. For best eye-opening results, take a few minutes to pat on a bit of Pep-Start Eye Cream while sipping your super-energizing elixer. It hydrates, brightens, cools, and de-puffs tired-looking eyes instantly, so you'll be energized inside and out. Wink, wink.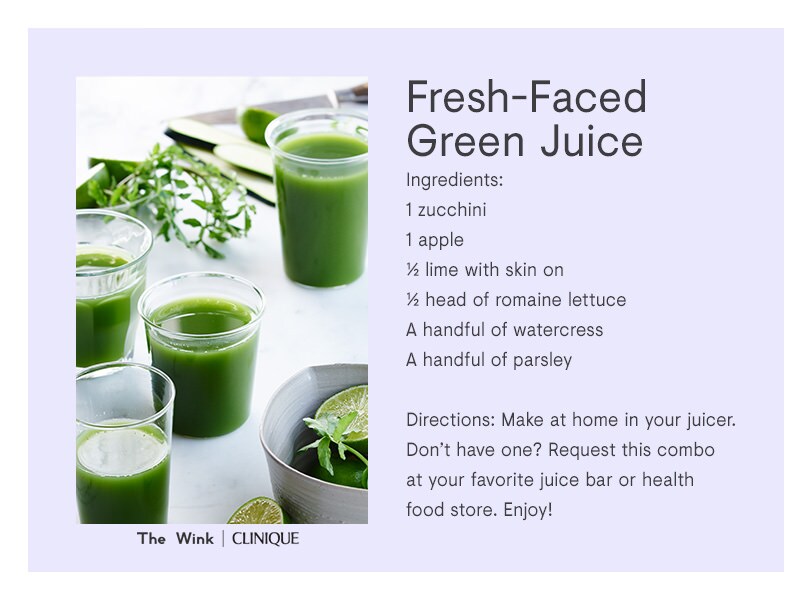 We're also fans of Rosemary's Hydrating Paleo Wraps. Want even more juice inspiration? Her new book, Juice + Nourish has 100 recipes—drinking your way to a healthier you has never been easier.
Portraits: Jackie Dixon | Still Photos: Peden + Munk | Words: Gemma Soames | Food Stylist: Alison Attenborough | Prop Stylist: Amy Wilson