Timeless, elegant and versatile: red lipstick is a classic makeup staple. From Marilyn Monroe in her signature look to Julia Roberts in Pretty Woman, Uma Thurman in Pulp Fiction and more, we've seen the biggest names in Hollywood rock the red lipstick look - and now it's your turn.
In today's guide, we'll reveal which of our Pop™ Reds is right for you. The brand new collection includes seven richly pigmented red lipstick shades to create the perfect bold lip for your complexion. Nourishing and easy to apply, these lipsticks stay on from AM to PM, and it can even be used as a blush.
Determining your skin's undertone
Your skin's undertone is the colour underneath the surface of your dermis that, combined with your skin tone, creates your complexion. Unlike your skin tone, your undertone remains the same throughout the year and determining it is a must-do to find the perfect makeup shade to enhance your complexion.
So, how can you tell which undertone you have? Simply look at the veins on the inside of your wrist. If they are greenish, you have a warm undertone, whereas if they appear blue or purple, you have a cool undertone. If you can't distinguish the colour of your veins, you probably have a neutral tone. In this case, choosing the best red lipstick for you is easy, as your skin can adapt to any colour.
An alternative way of determining your undertone is to hold a piece of white paper next to your skin and look in the mirror. If it appears purple, rosy or reddish, you have cool undertones. If, in contrast, it looks more yellow or golden, you have warm skin.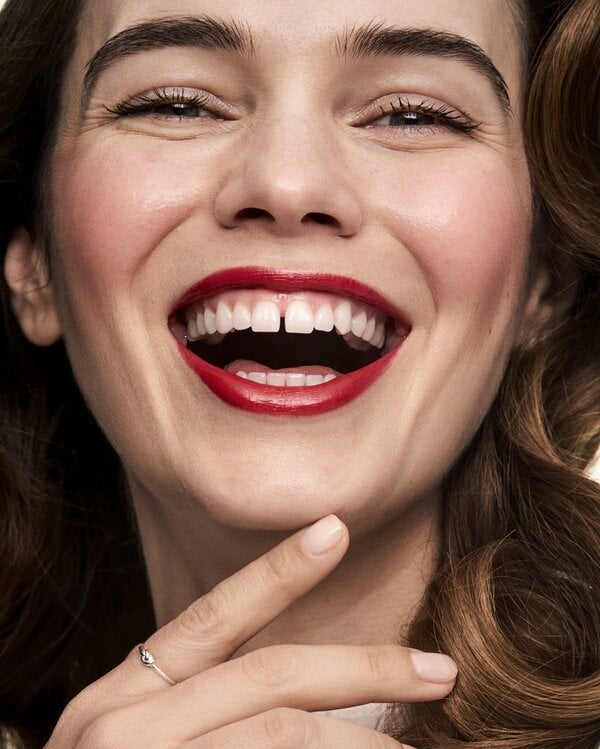 The best red lipstick for fair skin
If you have a fair complexion, you want to find a red lipstick to complement and illuminate your skin. For some bonus perks: the right shade will also make your teeth look whiter and enhance any brightening eye shadow.
If you have fair skin with cool undertones… choose a blue-based red lipstick in raspberry or cranberry hues, like our Red-y to Wear. This red lipstick shade will warm up the cooler pink tones in your skin and add a subtle contrast to the makeup look. If you're going for a 'goth' look, you can always play around with a dark red lipstick!
If you have fair skin with warm undertones… opt for an orange-red lipstick to create a more vibrant look, like our Red Hot. A bright red lipstick like this will enhance your natural glow while also adding a subtle warmth. Pair the lipstick with a peach blush and soft contouring for a glamorous sun-kissed makeup.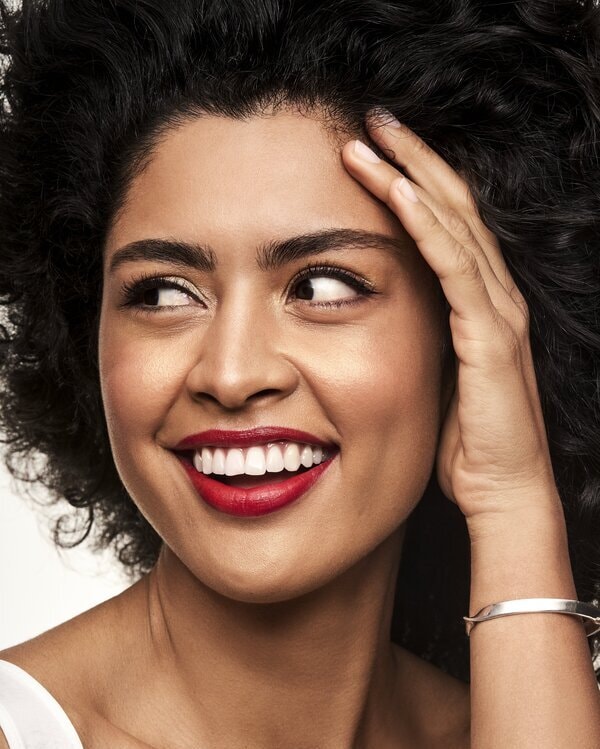 The best red lipstick for olive skin
For olive or medium skin tones, it's all about adding some more warmth to the look. Opting for a classic red lipstick that adds a pop of colour while complementing your bronzed complexion is always a win.
If you have olive skin with cool undertones… try a wine-red lipstick like our Red Carpet. Wine reds are blue-based colours, which means they have a deeper undertone that will perfectly blend with your olive skin while still making your makeup look stand out. For easier, more symmetrical application, make sure to start by lining your lips with a matching lip pencil like our Quickliner in Intense Cosmo.
If you have olive skin with warm undertones… choose a brick red lipstick to flawlessly suit your warm-toned complexion, like our Red-y to Party. Finish off the look with a neutral eye shadow and a shimmery bronzer on your cheeks so your lipstick can truly be the star of the show.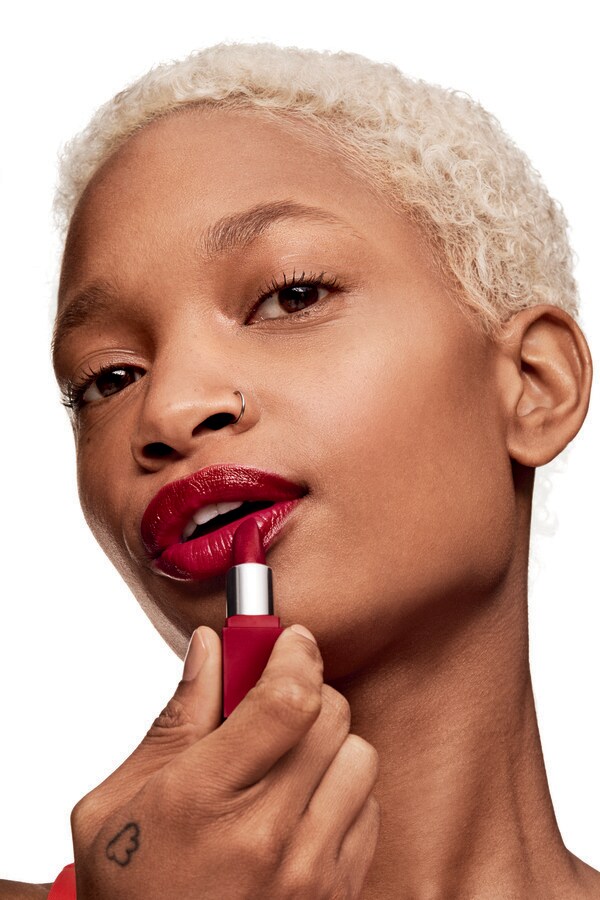 The best red lipstick for dark skin
On dark complexions, going for a deep pigment will enhance the warmth of your skin tone for a gorgeous, rich makeup look that you can wear anywhere.
If you have dark skin with cool undertones… opt for a deep red lipstick in plum or maroon hues, like our Red-y or Not. The dark shade will blend in perfectly with your complexion, adding a subtle intensity and dimension to your look. Chocolate red lipsticks also work gorgeously on dark skin with cool undertones.
If you have olive skin with warm undertones… find an intense red lipstick like our Red Hot to create a bold colour contrast. A pigment-packed lipstick like this will make your pout pop, especially if you outline your lips with a lip pencil in a slightly darker tone and finish off the look with a thin layer of sheer lip gloss.
Still not sure? Try our lipstick shade finder
Our Clinique Shade-Match Science™ tool helps you find the perfect foundation and lipstick shade duo for your skin tone for a Naked, Casual or Glam look. Each look offers a different intensity, so you can play around with the different hues depending on the occasion (or on your mood).
Once you know your undertone, finding the best red lipstick for your complexion becomes easier than ever. Whether you love a contrasting look or prefer matching colours, our Pop™ Reds collection has something for everyone - grab yours today!