Flor Beckmann is not your average fitness junkie. She's a kick ass Master Trainer, cycling instructor and inspirational athletic coach at the University of Texas. While she may have the same 24 hours in her day as the rest of us, each minute seems like a mini marathon in itself—and all in the Texas heat no less.
Flor kicks off her day at 5A.M. with a quick shower and smoothie, then runs out the door to teach her first spin class at 6A.M. After that, she buzzes between private training sessions around town and finishes the day teaching a few more spin classes. Her ideal midday break? Sneaking in a run along the Colorado River. And she does it all with a huge smile and an infectious positivity that makes you want to slap on your spandex and run with her. "Working out should energise you, not wipe you out," says Flor. "Which is why I always go for short, frequent high intensity workouts like cycling and lifting."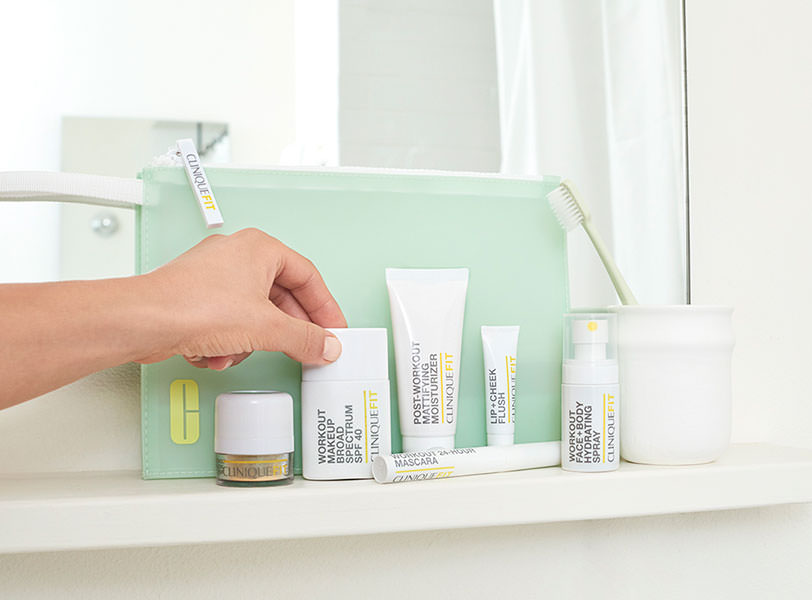 A high-performance day like Flor's calls for a beauty routine that can keep up. Enter: CliniqueFIT, a new line of skin care and makeup essentials created for a highly active life, whether you're an elite athlete or your average day just feels like a marathon. Here, Flor shares her best beauty tips to always look good in the fast lane.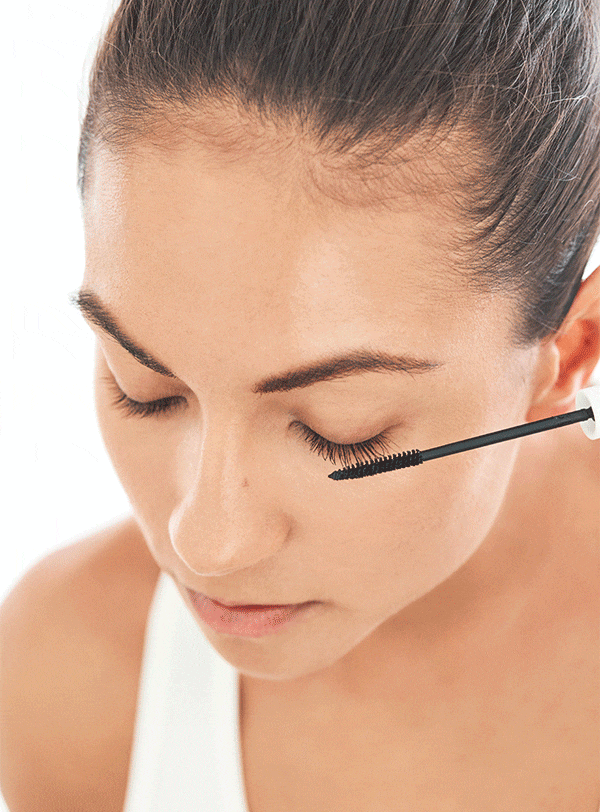 1. Mascara meltdown is not an option.
"One coat of mascara before my 6A.M. class instantly makes me look more bright-eyed and awake—even if I don't feel it. But, it has to last through the workout, and the rest of my day. I don't have time for touch ups," says Flor. Her new favourite: CliniqueFIT Workout 24-Hour Mascara lasts for a full 24 (yes, 24) hours. The secret: It creates tiny black tubes around each lash that only come off with warm water, so you can sweat, swim and even cry without it smudging, budging or flaking. Flor's tip: look down first, then wiggle the brush into your lashes.
2. Make that post-workout glow into the night.
To get from workout to night out in seconds, Flor—a self-professed makeup minimalist—relies on a simple pop of bright colour. "If I'm going out right after the gym, I'll let my hair down and put on a bright lip, which instantly pulls everything together," says Flor. CliniqueFIT Lip + Cheek Flush tints skin with just the right level of radiant rosy glow. It comes in one universally flattering shade and is virtually goof-proof; just dab onto cheeks and lips and blend with your fingers.
3. Quick cool-downs keep you going.
"Taking short breaks between sets helps build up endurance," says Flor. Get revitalised ASAP with with CliniqueFIT Workout Face + Body Hydrating Spray, which instantly cools, moisturises and refreshes, without making your skin feel sticky. Spritz head to toe, then get back out there.
4. To nix redness, go yellow.
"My skin gets so red after working out, especially if it's hot outside," says Flor. "And the redness lasts for hours. Ugh!" Until now. CliniqueFIT Post-Workout Neutralizing Face Powder is a game changing color-correcting loose powder that instantly calms redness on contact. Yellow pigments and natural minerals neutralize redness and absorb excess oil and shine. "It makes an immediate difference and I love how easy it is to just pat where needed. It's so small, I can take it everywhere!" says Flor.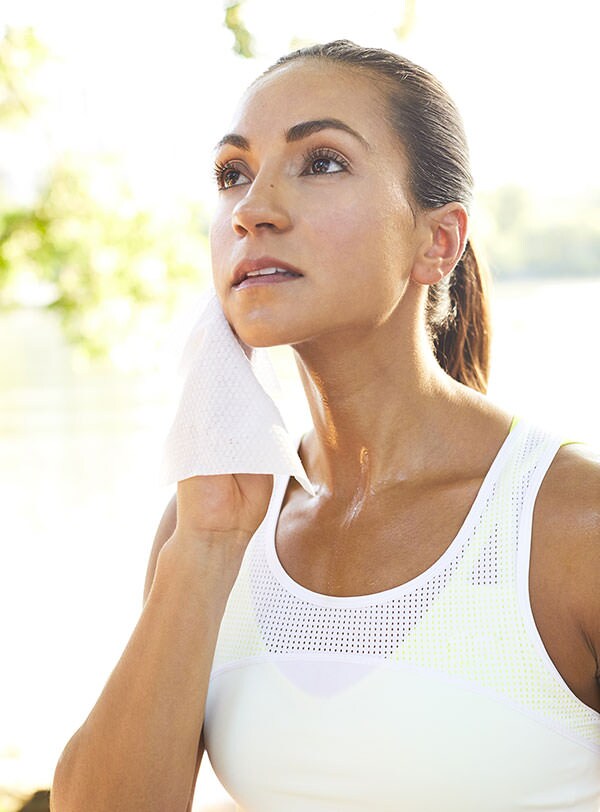 5. Always wash your face after a sweat session.
"If you do one thing after a workout, it should be to cleanse your skin," says Flor. Post-workout buildup of dirt, sweat, oil and grime can lead straight to breakouts and clogged pores. "I move from class to class, so I rely on cleansing wipes for a quick refresh on the go," she says. CliniqueFIT Post-Workout Face + Body Cleansing Swipes quickly remove dirt and oil, gently exfoliate, soothe irritation and replenish lost moisture all in just one swipe.
6. Re-hydrate inside and out.
You already know it's crucial to drink water after a workout, but did you know that it's also important to rehydrate your skin? During one 45-minute workout, your skin can lose about a litre of sweat. And don't be fooled, oily skin types need moisturiser too. "I have oily skin, so controlling oil and shine is a top concern, but I know it also needs hydration," says Flor. That's why she's a fan of lightweight oil-controlling gel lotions like CliniqueFIT Post-Workout Mattifying Moisturizer, which gives skin a matte, shine-free finish, even when she's on the run.
Photos: Joshua Pestka | Words: Hilary Presley | Hair: Ro Vielma | Makeup: Susie Jasper | Wardrobe Stylist: Mallory Hublein | Prop Stylist: Brie Neumann