"Good design is like an antidepressant. It has the power to transform your mood, like a big squishy sofa you plop into. Makeup is like that, too. It can literally transform a woman's day," says Jonathan Adler, potter, designer, author—and now, Clinique collaborator. We teamed up with the designer to create a limited-edition collection of must-haves that look just as good on your vanity as they do on you. Known for using bright colours, modern prints and bold graphics, all while putting a cheeky make-you-smile spin to his designs, this gem of a collection is no exception. Here's a behind-the-scenes look into the inspiration and creation of Clinique + Jonathan Adler.
*Only Jonathan Adler's Lip Pop collection is available nation wide in Australia and at Clinique.com.au
The Wink: What inspired this collection?
Jonathan Adler: Jet-set glamour. I always think about iconic destinations. Places where women look like their most glamorous selves. I wanted to capture that in makeup. I thought about diving into the Aegean Sea, and being in fabulous places: Palm Beach, Florida. Capri, Italy. Santorini, Greece.

TW: What role does travel play in your designs?
JA: I live in New York City, which is very urban. It can be tough, loud and cold. So in my mind I am always fantasizing about vacation. I, like everybody else, want to be at the beach. So when I started working with Clinique, my first thought was "let's make it feel like being at the beach."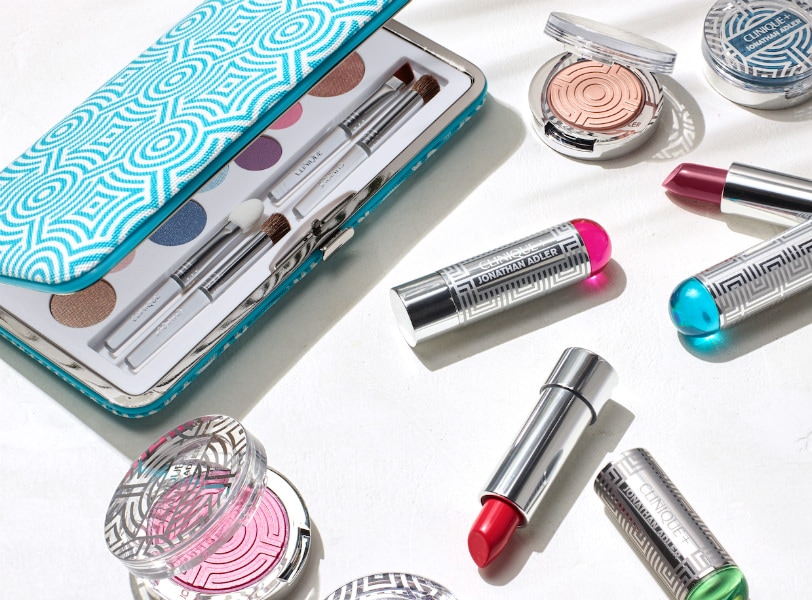 TW: If this collection had emotions, how would it feel?
JA: It feels fresh! It feels like a trip to Capri. It feels like jumping into the Mediterranean Sea.

TW: Where is your favourite place to vacation?
JA: Capri in Italy is perfect. It's like lemon sorbet for the soul. I wanted to capture that spirit in my collection for Clinique.
TW: Do you have a favourite in the collection?
JA: I love the Globo Lip Pops, inspired by my Globo Collection, which involves domes of Lucite, a magical material that glows. Lipstick cases all look the same, so I want to make these collectible. It's tiny treasures like these that can bring big pleasures. The whole collection is like that—very chic, very classic, very Clinique. I hope everyone enjoys using it as much as I enjoyed creating it!

TW: How did you bring your iconic geometric prints into this collection?
JA: A lot of my own design work is about bold patterns, bright colours and optimism, which I translated into my Clinique collection with nifty crisp geometric patterns. It's all about the details. I love how we put one of my signature patterns on the lid of the Lid Pop and Cheek Pop, and then when you open it up, it's also imprinted into the makeup. It's these divine details that make it feel like an instant vacation. It captures the spirit of irreverent luxury.
TW: Any other favourites?
JA: The makeup brushes are also really fab because I made them neon pink. They make me think of coral and snorkelling. As a designer, I'm always thinking of ways to make life better. So why should your makeup brush be boring? Why not make it coral pink. Make it happy. Make it fun and exciting.

TW: What is one thing everyone should have on their vanity?
JA: A product that makes you feel powerful. And something from your mother.
Video: Supermarché | On Location Photography: Dewey Nicks | Studio Photography: Dylan Griffin | Words: Rachel Hayes | Shot on location at The Parker Palm Springs