Over Breakfast is our ongoing series where Clinique Global Brand President Jane Lauder sits down with influencers around the world to talk trends, passions, and secrets to success. Here, Jane delves into the world of vintage hound J.J. Martin.
Everyone has her fashion kryptonite. Even our own Jane Lauder, who really (really) loves vintage jewelry. So when she recently traveled to Rome, she carved out some quality time with vintage guru J.J. Martin, whose online boutique, La DoubleJ, is like reaching the end of the rainbow for vintage enthusiasts. If you haven't yet tiptoed into the trend of wearing things from yesteryear, you'll be even more allured into J.J.'s world as she uses real-women models to show how her very cool selections can work on anyone—trust us, you will see yourself in vintage. Jane and J.J. shopped Via del Boschetto together and bonded over the thrill of the hunt and tactics on how to strike that tricky balance of mixing vintage with modern.
Jane Lauder: I'm a vintage jewelry person, not necessarily a vintage clothing person. This store has all of my favorite things.
JJ Martin: Jewelry is the easiest vintage to introduce into a wardrobe, and there's always an amazing story behind the pieces.
JL: I love it! This would be my other career. I am obsessed with all of this. How do you not keep all of the amazing finds you have on La DoubleJ for yourself?
JJ: I used to have that problem. When I started, I had the most voracious appetite, and now I feel like I ate too much dessert. You know?
"Jewelry is the easiest vintage to introduce into a wardrobe, and there's always an amazing story behind the pieces."
JL: But I think it would be perfect. You wear a piece for a night, and then you move on.
JJ: I'm very democratic about my vintage. I can't keep all of the best pieces for myself! And that is the heart of La DoubleJ. I want people to know about vintage and love it as much as I do. There is too much [fast-fashion] mentality out there. We need fewer things, and we need better things. Sometimes it disturbs me to think about all of the clothing that is produced each season. That's why I'm interested in educating people on timeless items that you don't need to throw away.
JL: Any tips on how to wear vintage accessories or clothing? It can be tricky to pull off.
JJ: Vintage clothing can be a little specific. Sometimes it can look too much like a costume. Don't wear vintage from head to toe. The easiest way to make a vintage dress look modern is to pair it with a really modern shoe. Otherwise, you end up looking like your grandma.
JL: How do you display your collection? I keep having this moment at home where I want to have all of my accessories out so I can enjoy them, because they're like art.
JJ: My house is a casino, as they say in Milan for chaotic mess. I have drawer after drawer of vintage things and no idea what's in each one. But in a way, this is very energetic because things arrive to me and they go away.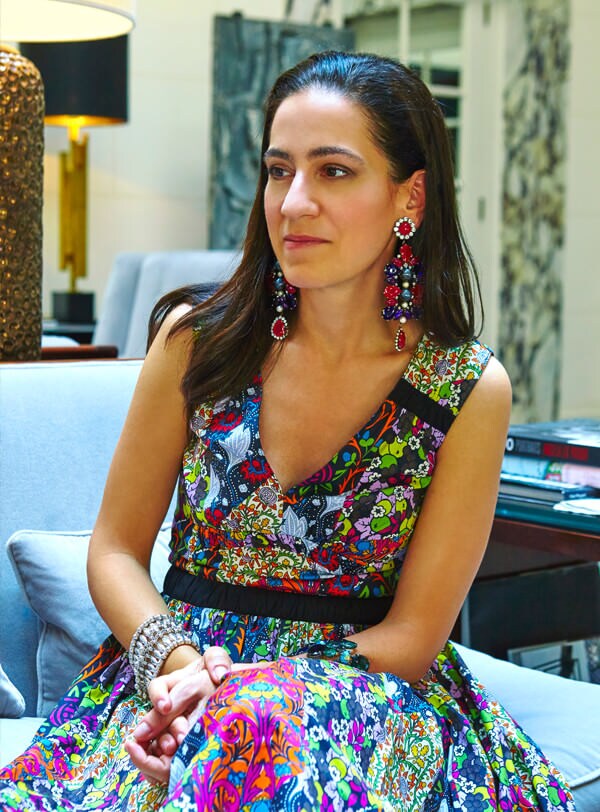 JL: Since I've been working at Clinique, I've been trying to find more silver pieces.
JJ: That's all 1930s and 1990s. It's harder to find!
JL: Why are most vintage earrings not pierced?
JJ: Because it was vulgar for women to have pierced ears. A good thing about our website is that we allow people to change clip-on earrings to pierced. I want people to buy them, wear them and love them.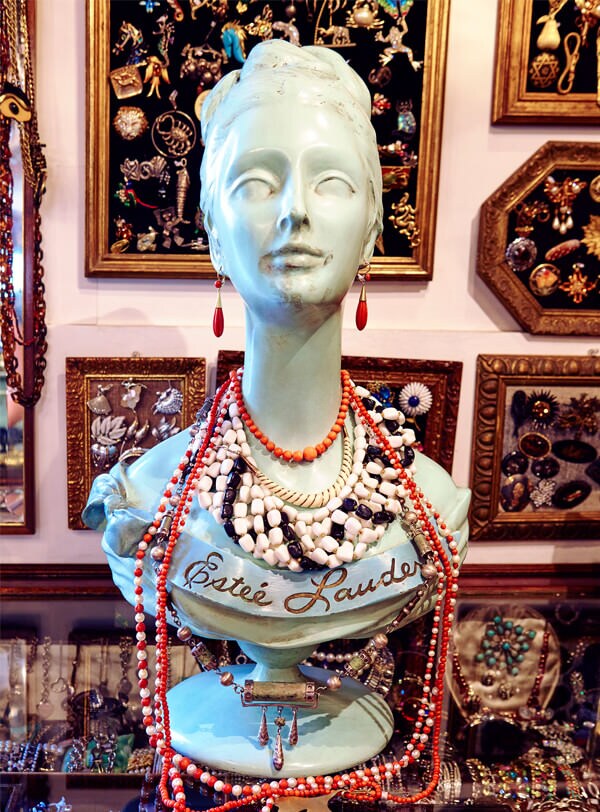 JL: Any vintage shopping tips?
JJ: Go with an open mind and a dose of spontaneity. If you think "I want to find a Chanel jacket," or something specific, you're going to have a hard time. But if you have an open mind, you can find some real gems. Take today for example. Who would have ever thought you would have found this amazing vintage bust of your grandmother, Estée Lauder, when we went shopping on Via del Boschetto? That's amazing! I bet that wasn't on your shopping list. That's what happens when you let fate take over your vintage shopping experience.
Photography: Alberto Zanetti | Location: J.K. Place Roma