Over the past few years, we've seen countless skincare and makeup trends come and go, but one that seems to be here to stay is skinimalism. Beauty lovers around the world are joining the natural makeup movement, creating no-makeup makeup looks that accentuate their features, rather than changing them.
Wondering how you too can go natural? Read on to discover our favourite natural foundation and a few pro tips on how to apply foundation and make it look like a second skin!
Our best natural-looking foundation: Even Better Clinical™ Serum Foundation SPF 20
At Clinique, we believe that the perfect natural makeup look is created with skincare-infused products that will not only make your skin look flawless on the outside, but nourish it from the inside as well.
That's why we love the Even Better Clinical™ Serum Foundation SPF 20. Combining a powerful brightening serum formula with a gorgeous pigment, the clinical foundation promises a flawless satin matte finish for a more radiant, even-toned bare complexion.
Available in 42 stay-true shades, this natural-looking foundation provides weightless coverage that takes you from AM to PM without caking, settling or creasing. Even better? You can easily build on the coverage, making this a versatile foundation you can use whether it's a no-makeup makeup or a full glam type of day.
"They put serum technology in every bottle, so it leaves my skin looking even better than I found it" - Emilia Clarke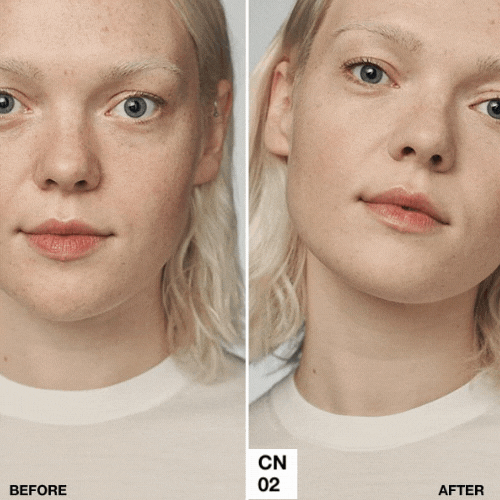 The ingredients
One of the key things that sets the Even Better Clinical™ Serum Foundation SPF 20 apart from other foundations is its formula. As our first clinical foundation with three serum technologies, the product is able to improve your skin from the inside out, while providing a 'my skin but better' finish. So, what is this natural foundation supercharged with?
Salicylic acid. Commonly used to fight blemishes and blackheads, salicylic acid helps to restore radiance and re-texturise your skin, by stimulating cell turnover, eliminating dead skin cells and effectively unclogging pores. This is particularly relevant if you're looking for a foundation that will help disguise skin irritation without making it worse.
Vitamin C. Also known as ascorbic acid, vitamin C has many skincare benefits. It's a powerful antioxidant that brightens up your skin and gives your complexion a gorgeous glow. Thanks to its vitamin C, our serum foundation is able to hide uneven tone on the outside, while treating it from the inside.
UP302. Inspired by border silver, a traditional Chinese medicine known for its potent antioxidant benefits, UP302 is a targeted brightening molecule that, together with vitamin C, minimises the look of dark spots and other skin discolouration.
SPF 20. One of the key rules of skincare is that SPF is a daily necessity, no matter your skin type, tone or concerns. Infused with SPF 20, the Even Better clinical foundation protects your skin from sun damage, preventing future discolouration, as well as premature ageing signs.
Hyaluronic acid. The holy grail of skin hydration, this powerful humectant helps to plump up the skin for a look that is glowy, but natural. As a foundation with hyaluronic acid, the Even Better clinical foundation strengthens your natural moisture barrier, ensuring that your dermis has the hydration levels it needs to maintain a plum, healthy condition.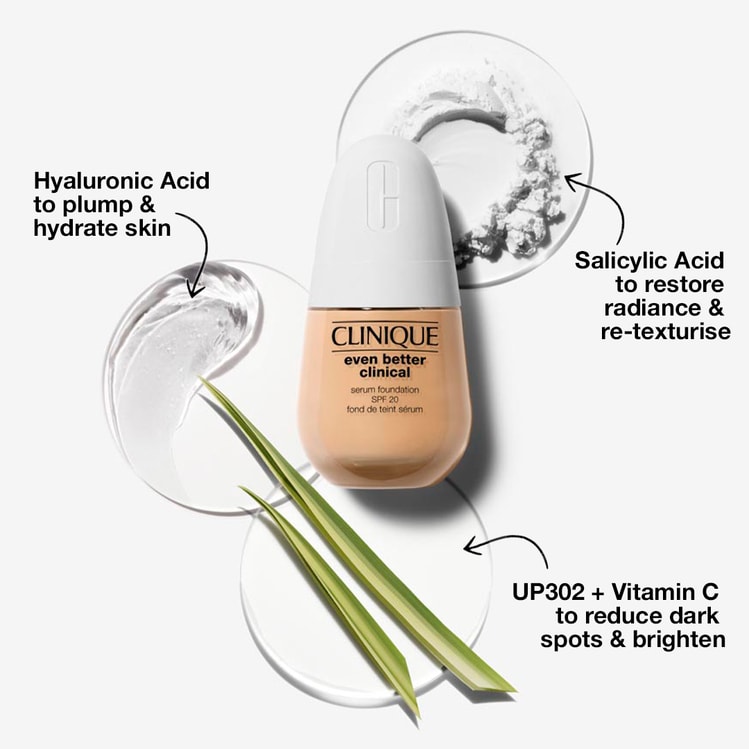 The results
So, what does this all mean in the end? The benefits of this serum foundation are clear and go way beyond makeup. After using the product for 8 weeks, 221 women noticed visible results: 90% say bare skin looks smoother and more even-toned and 92% say bare skin looks more radiant.
How to apply foundation (and make it look natural)
Using a lightweight formula with a natural finish is essential to make your foundation look like a second skin, but your application technique matters too. So, what's the best way to apply foundation and make it look natural, rather than cakey?
Always prep your skin. Your foundation won't look flawless if it doesn't have the perfect canvas to sit on. So, what goes into prepping your skin? Well, that depends on your skin type and concerns. If you notice any rough or dry patches, consider exfoliating your skin and be sure to moisturise before you apply the foundation. Our Moisture Surge™ 100H Auto-Replenishing Hydrator is an excellent option for this step, providing 100 hours of deep hydration.  If, on the other hand, your skin is on the oilier side, using the right primer will prevent your makeup from looking too cakey and from sliding off, extending its wear time for hours.
Choose the right shade for your skin tone. Even if you're using the best natural foundation, choosing a shade that doesn't match your neck or hands won't create that effortless 'my skin but better' appearance. Whether you're going for a no-makeup makeup look or not, invest some time into finding the perfect shade for your skin tone. Don't know where to start? Our Shade Match Science™ tool makes it easier than ever, providing you not only with your perfect Even Better™ shade, but three lip colours to go with it as well.
Remember that less is more. Especially when it comes to minimal makeup! Most of us apply too much foundation on a regular basis, but for a natural makeup look, we recommend starting with just a few drops of lightweight foundation, blending it using a foundation brush and, if necessary, building on that until you get the coverage you're looking for. Lighting matters as well: do your makeup by a window or in front of bright white light, so that you can see what it looks like to other people and don't end up applying too much.

The no-makeup makeup look works for any occasion, is easy to create and is a lot gentler on your skin than heavier makeup looks, so why not give it a try, starting with a natural foundation like our Even Better Clinical™ Serum Foundation SPF 20? Discover your perfect shade today with our Shade Match Science™ tool and be sure to explore the rest of our Even Better collection.