Does your skin feel dry in some areas and oily in others? You might just have combination skin. Read our derm-approved guide and learn how to care for your skin with the best skincare routine for combination skin.
What is combination skin?
As the name suggests, combination skin is a mixture of two skin types. You can quickly discover if you have combination skin by skipping your morning moisturiser and assessing how your skin feels after midday.
"If you notice an oily T-zone but your cheeks are tight, you have dry combination skin. If you have an oily T-zone and comfortable cheeks, you have combination oily skin", Dr Nina explains.
Combination skin is one of the most common skin types, and it is also characterised by larger pores, excess shine and flakiness on your T-zone; breakouts and dryness occurring simultaneously; oilier skin during summer and drier skin during winter; and occasional dandruff.
How to care for combination skin: The best skincare ingredients
When it comes to skincare for combination skin, you want to look for a mix of ingredients that will balance out your dermis by feeding the dry spots with deep moisture while also controlling oiliness and preventing clogged pores.
Three excellent ingredients for combination skin are:
Hyaluronic acid is an essential skincare ingredient for any skin type. The powerful humectant will help reinforce your skin's natural moisture barrier and plump up the skin on your cheeks and jaw with maximum hydration.
Salicylic acid is a beta-hydroxy acid (BHA) that helps eliminate dead skin cells to reveal clearer and smoother skin. For those with combination skin, this ingredient will help combat the common blemishes and blackheads.
Alpha Hydroxy Acids (AHAs), such as glycolic acid and lactic acid, exfoliate the surface of your dermis to brighten up dull skin. In your skincare routine for combination skin, you'll want to use products with AHAs on your T-zone to help minimise the look of large pores.
What is the best skincare routine for combination skin?
One of the tricky things about combination skin is that it tends to feel different every day. This can make it challenging to find a regimen that consistently works, which is why it might be helpful to experiment with different products before you commit to them. If you want to do so, make sure to check our Clinique to Go range.
However, if you're looking for a basic skincare routine for combination skin to start with, these are our three recommended steps: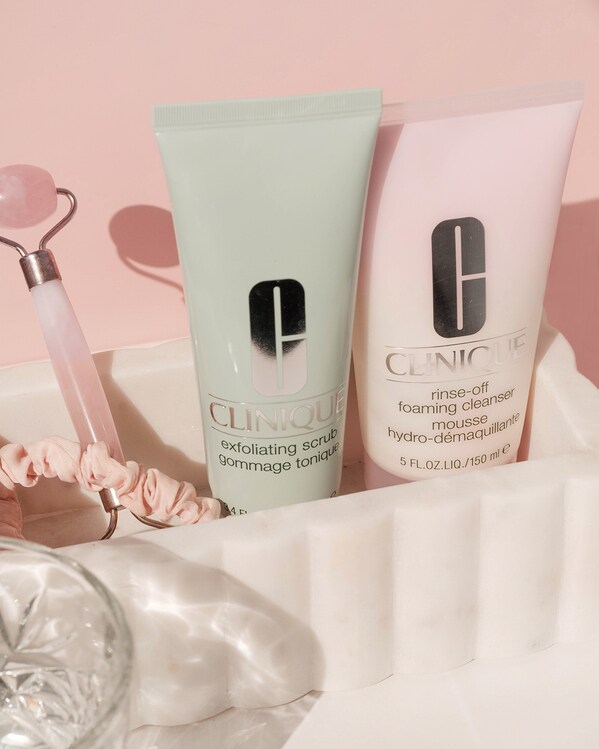 Step 1: Start with a gel or cream cleanser
When looking for the best face wash for combination skin, you want to find one that helps control oil production without disrupting the moisture barrier. Gel and cream cleansers are typically gentler and therefore suitable for dry and oily skin types alike.
Additionally, you'll want to exfoliate two or three times a week to remove any stubborn dead skin cells. Once again, the secret is in finding a product that is gentle on your skin.
For everyday use, the All About Clean™ Rinse-Off Foaming Cleanser is a fantastic cleanser for combination skin. This cream-mousse cleanser is formulated with glycerine and hyaluronic acid to rinse away any pollution, excess oil and makeup. Its non-stripping formula leaves oily skin feeling fresh without further drying out your cheeks, providing your combination skin with the balance it needs.
For exfoliating, we recommend the 7 Day Scrub Cream, a gentle exfoliator that nudges away roughness and minimises the appearance of lines. Silica helps to clear away dead skin cells, dirt and oil, while coconut oil leaves the skin feeling hydrated and comfortable.
Step 2: Apply a serum with vitamin A
Vitamin A and its derivatives are suitable for all skin types, so if you're searching for the best serum for combination skin, retinol and retinoids are two ingredients to keep an eye on.
Suitable for all skin types and tones, our Smart Clinical Repair™ Wrinkle Correcting Serum is formulated with pure retinoids, hyaluronic acid and CL1870 Peptide Complex™ to soften and moisturise the skin. Additionally, it targets wrinkles and fine lines to keep your skin youthful-looking throughout the years.
Step 3: Finish off with a lightweight moisturiser
As a final step of your skincare routine for combination skin, apply a lightweight cream that will hydrate the dry areas of your skin without increasing the shine on your T-zone.
Our Moisture Surge™ 100H Auto-Replenishing Hydrator is a wonderful moisturiser for combination skin - and, in reality, for any other skin type. Developed with a lightweight oil-free formula and a blend of powerful moisturising ingredients, this face cream provides instant hydration that lasts for 100 hours while refreshing your skin for a healthy-looking glow.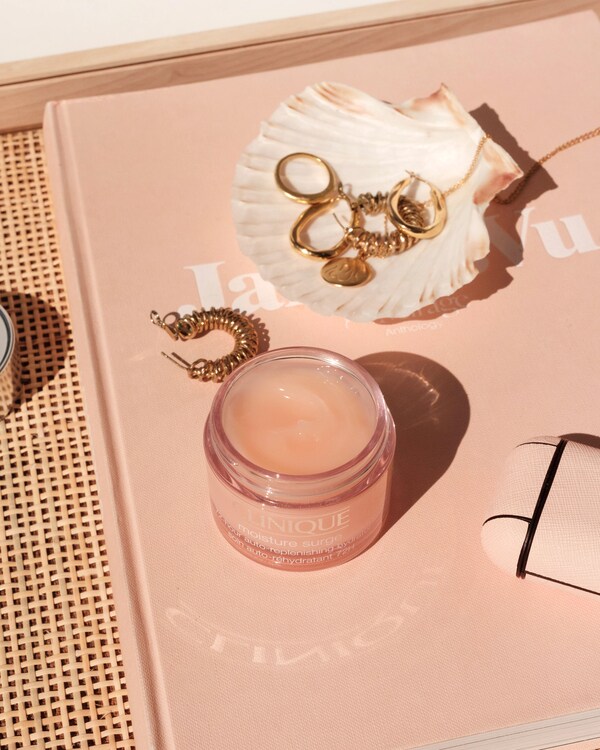 3 makeup tips for combination skin
When it comes to makeup for combination skin, the base is typically the most difficult part to nail. Once again, this is because you have two skin types in one, which means that applying a foundation for dry skin won't work for your T-zone and vice-versa.
So, how do you choose the perfect foundation for combination skin and create a flawless skin makeup look? There are a few tips and tricks to remember:
Always prep your skin. Use a mattifying primer on the oilier areas of your skin and a gel-based moisturiser on the drier ones. This way, you'll balance out the skin to create a perfect canvas for your makeup.
Choose a hydrating matte foundation. When looking for the best foundation for combination skin, there are two things to consider: the finish should be matte to address the oily parts of your skin, while the ingredients should be hydrating to nourish the dry parts. Supercharged with hyaluronic acid and providing a buildable matte coverage, the Even Better Clinical™ Serum Foundation SPF 20 is an excellent choice for those with combination skin (particularly if it's on the oilier side).
Keep a setting powder in your purse. Do you usually notice that, as the day goes by, your T-zone gets visibly oilier? That's not uncommon for those with combination skin and the trick is to occasionally touch up with powder. Try our Stay Matte Sheer Pressed Powder!
Creating the best skincare routine for combination skin is about finding a balance between hydration and oil control. Try out our products for combination skin to maintain a healthy glow day in and day out!