Eyeliner is definitely having a moment right now. So is minimalist chic. Put these two trends together and here's what you get: Vicky Heiler's impeccable winged eyeliner look, created by Clinique Colour Pro Matin Maulawizada. "I love this cat eye because it's so precise. The overall look is natural, but not boring. And when my makeup looks too strong or dramatic, I don't feel like myself," says Vicky, founder of Bikinis and Passports. "This look strikes the perfect balance between trend and my personal style."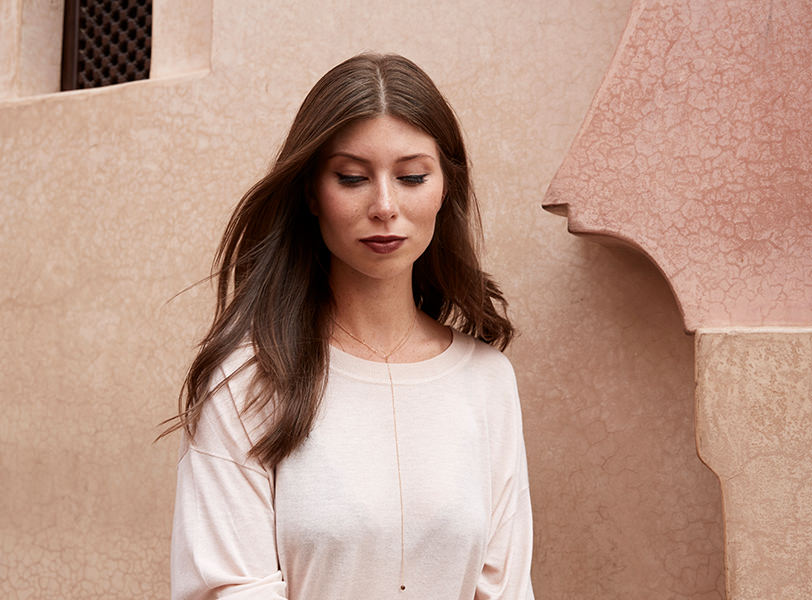 Browse Vicky's Instagram feed and you'll see what she means. Her streamlined style for fashion, home and beauty is in a modernist's palette of nudes mixed with classic naturals, like black, white and grey. Vicky started her blog six years ago as a personal travel diary to share with friends and family, but her easy-to-love style, enviable travel itineraries and her love for social media quickly turned her personal side project into a full time job, serving up daily inspo, advice and expert tips for like-minded style seekers.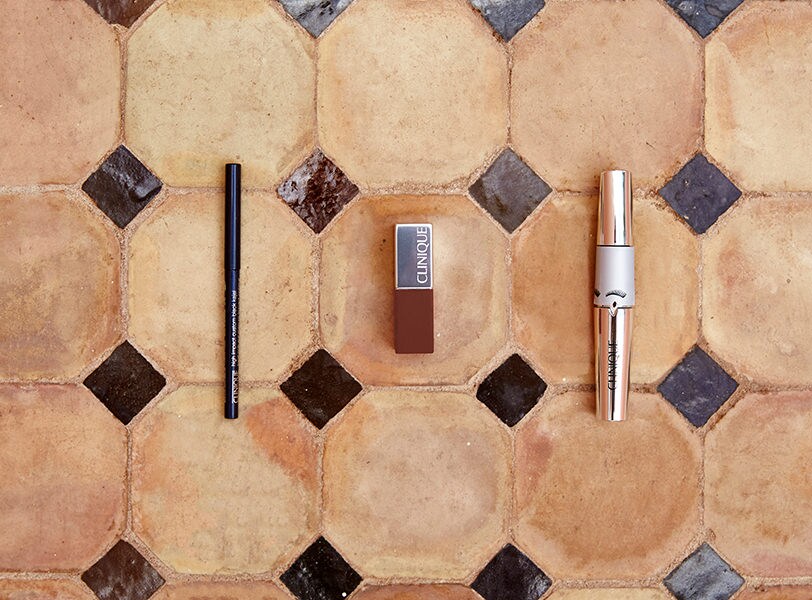 Matin and Vicky met on a recent trip to Marrakech, where they were immersed in Morrocon culture, inspired by the rich colours and intricate design artistry. "My blog is all about being inspired by travel, especially for beauty looks. Marrakech is known for bold eyeliner, and Matin helped me interpret that look to work for my personal style," says Vicky.
Here's how to get it:
It all starts with glowing skin.
Clean, fresh skin is a must when you are going for a "less is more" look. The more glowing your skin, the less makeup you really need. "First, I warmed up her complexion with a foundation that's just one shade darker than her natural skin tone," says Matin, who used SuperBalanced Silk Makeup Board Spectrum SPF 15. "The key for a natural finish is to push the foundation into your skin, instead of rubbing it all over. You won't see any streaks, and it'll sink seamlessly to your skin. Do that until it's sheer enough that you see your skin. We don't want to lose her freckles—they're priceless!" he says. And don't apply any powder on top—keep the look as glowy as possible.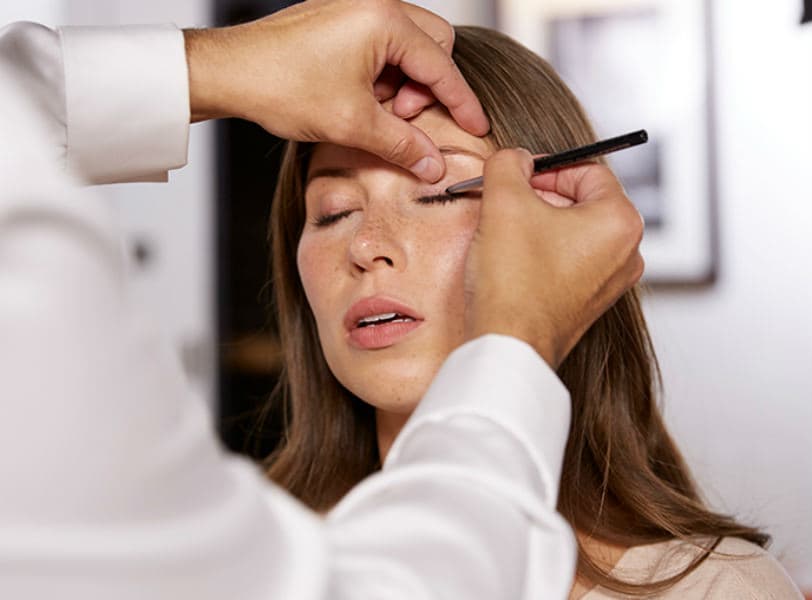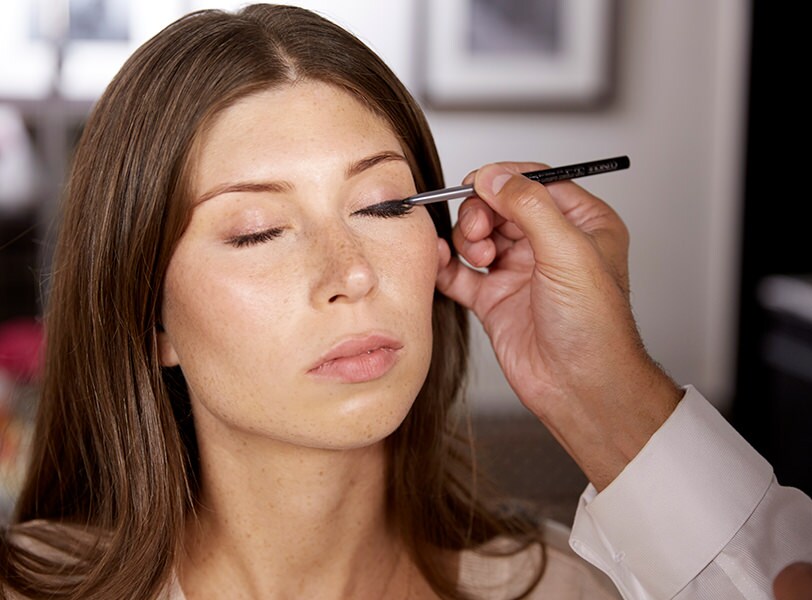 It's a thin line between minimal and overdone.
Traditionally, makeup artists use black liquid liner to create a cat eye, but Matin is a fan of the new High Impact Custom Black Kajal in Blackened Black. "It's easier to control than liquid liner and you can build on it to get the level of intensity that you want. Plus, it's a matte black, not shiny like liquid liner, which really draws attention to the lashlines and looks very chic," he explains. Additional accolades: It glides on smoothly and resists smudging, sweat and humidity, which are all especially important in Marrakech, where the temps hit over 100 degrees.
"First, I applied a thick dash just along the lashline in the very center of her upper lid," explains Matin. "This will create a beautiful contoured shape of the liner and give extra depth in the center of the lashline."
Next, Matin traced a thinner line, just along the base of her upper lashline, from the inner corner of her eye, over the thick dash, and just beyond outer corner. "I love how this technique gave me a cat eye look without being overly dramatic," says Vicky.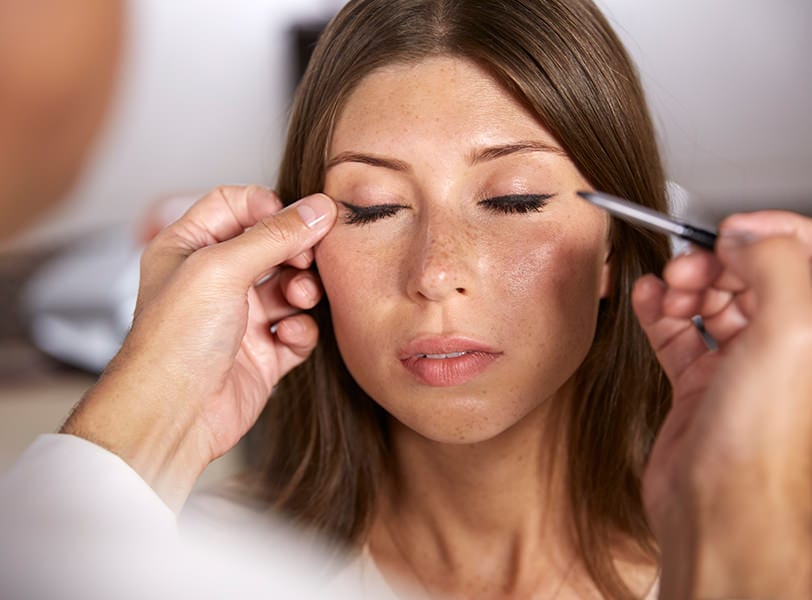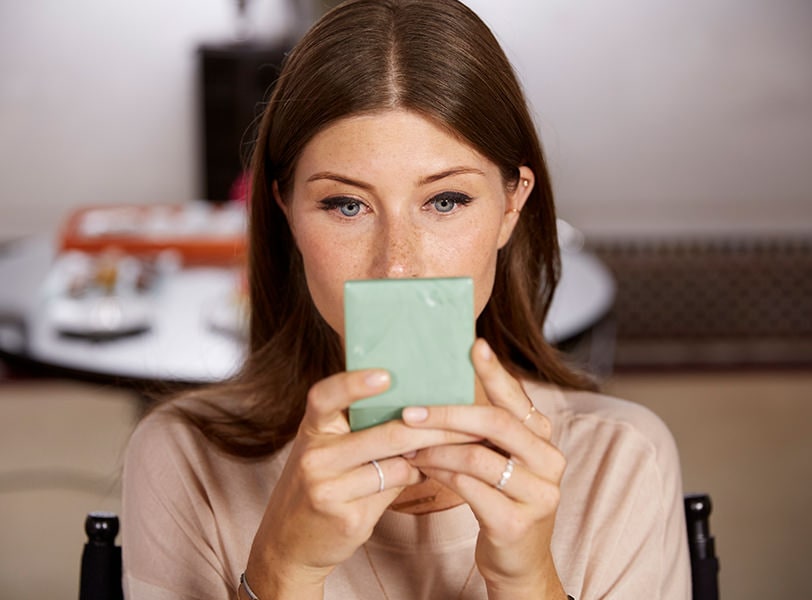 Accent black liner with shimmer shadow.
"Chubby Stick Shadow Tint for Eyes in Whopping Willow, a shimmery khaki eyeshadow, is the perfect complement to the inky black kajal liner. It's brightens the look without making it complicated," he says. Matin used his fingertips to dab the shadow in the center of the round part of her lids, then tapped it out on both sides. "Make sure the shadow doesn't cover the black liner, so that the black stays matte and doesn't get faded or shimmery," he cautions.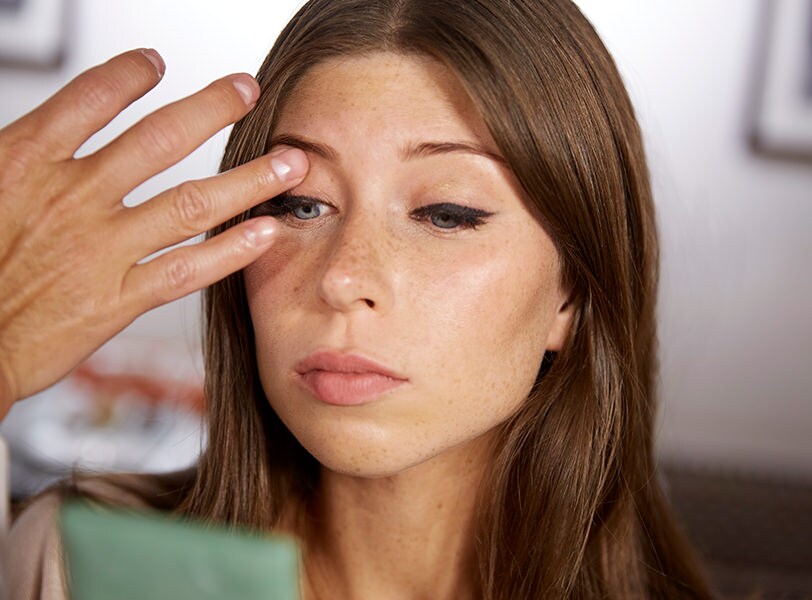 Complete the look with the perfect nude lip.
A nude lip is everything for a minimalist-chic look. Try Pop Matte Lip Colour + Primer in Blushing Pop. Instead of applying directly from the tube, Matin lightly pressed the colour onto Vicky's lips with his fingertips for a naturally soft finish. Then he painted on a second coat to intensify the colour.