Did you know there are 57 muscles in your face? Yessss. And while we know that regular workouts are key to a fit body, now facial workouts are a thing, too. Actually, above-shoulder exercises, like face yoga, have been around for centuries, but today we can thank Rachel Lang, a facialist, and Heidi Frederick, a massage therapist, for bringing the practice into the 21st century. Together, they co-founded FaceLove Fitness in New York City—think of it as boutique fitness for skin care enthusiasts, offering 15-minute interval training sessions for your face. The exercises help to firm, lift, and tone facial muscles, preventing sagging and wrinkles. Added massage benefits boost microcirculation, energizing cells and encouraging maximum absorption of nutrients from the blood stream.
"Our clients say they see results in 3 to 4 weeks. They notice a difference in photos, and family and friends comment on how 'well' or 'healthy' they look," says Heidi. New beauty-from-the-inside-out habit: sold.
Like barre class versus boot camp, a lot comes down to finding the best facial exercises for your needs. That's why we asked Rachel and Heidi to come up with a series of workouts for the 20s, 30s and 40s. Each decade tackles different concerns, calling for different moves.
In your 20s, you may not be too concerned about the signs of aging, but instilling a regular skin care regimen builds a foundation of healthy skin for years to come. Katelynn Demeo, 24, Clinique's Assistant Art Producer, was game to give the workout a try. Her take? "I've been doing it a few nights a week. I think my skin has more glow, and it's honestly so easy to do. This new habit is also making me take better care of my skin overall. Win-win."
The Warm Up: Prep your skin with a firming mask like Sculptwear Contouring Massage Cream Mask. Warm a quarter size amount between your fingers, and massage onto your neck and face using swift, upward motions. Let it sink into your skin and work its magic while you do this circuit, which only takes about 5 minutes.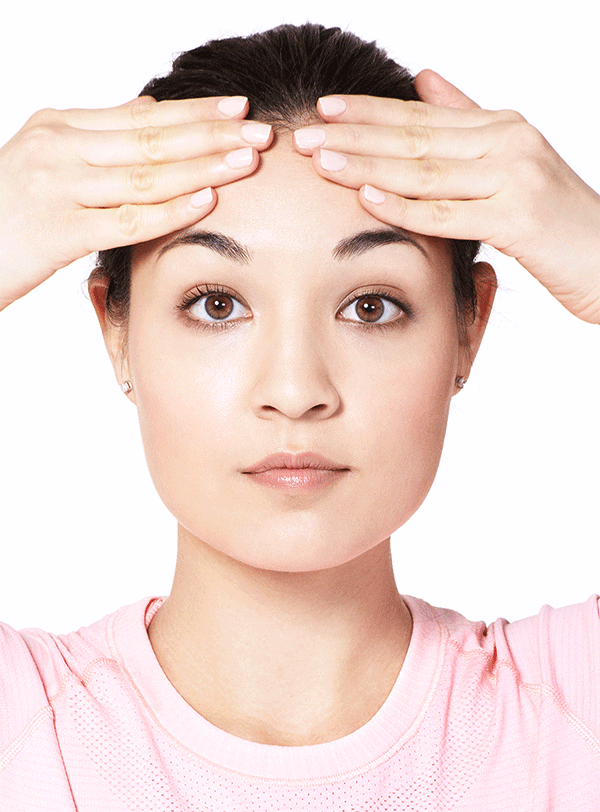 The Brow Raiser
This move helps to combat horizontal lines from developing across your forehead because it strengthens "supportive" facial muscle so your "expressive" ones don't get easily overworked. Repeat 5 times.
Step 1: Place both hands horizontally on forehead, ½ inch above eyebrows, and press them against your skin.
Step 2: While keeping your hands firmly in place, raise your eyebrows up towards your fingers, hold for 5 counts, then release.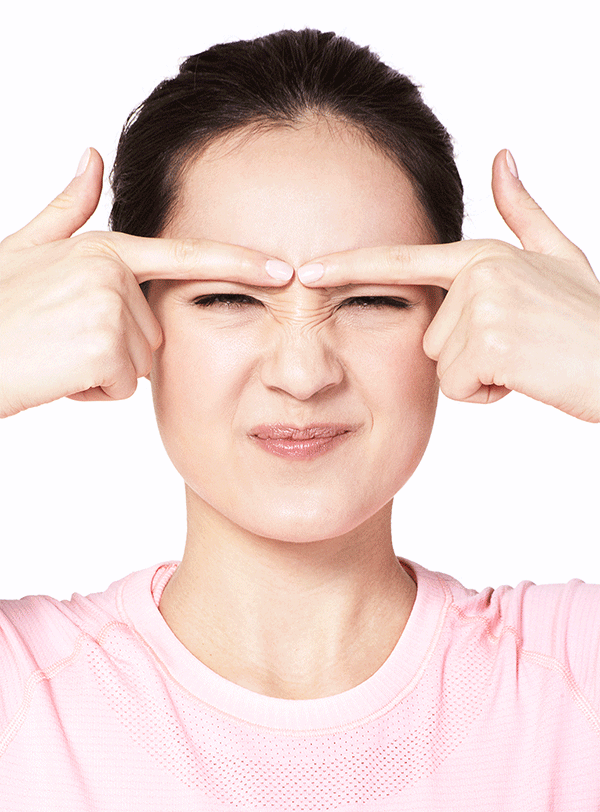 The Power Squint
This sequence fights off the expressive "elevens"— those parallel lines between your brows—and it keeps your whole eye area strong, lifted, and firm. Repeat 5 times.
Step 1: Press both pointer fingers firmly along the top edge of your brows at the bridge of your nose, and pull eyebrows away from each other.
Step 2: While your pointer fingers are still in the position of Step 1 to create resistance, push your eyebrow muscles toward the middle (furrow your brow). Hold for 5 counts.
Step 3: Change tempo, and pulse in the above position 10 times.
The Chin Up
This exercise uses all 57 facial muscles to maintain tone and maximize circulation, helping your skin to function extra-well. Alternate these moves for 5 full sets.
Step 1: Create a resistance platform under your chin by putting hands together in a flat fist.
Step 2: Squeeze every muscle in your face—squint eyes, pucker lips, and tuck chin to chest—while your fists press upward. Keep your arms and elbows tucked. Hold for 5 counts.
Step 3: Release the resistance of your fists from under your chin, and lift your eyes, eyebrows, and chin up and open your mouth wide. Hold for 5 counts.