She sees the world as a vibrant mix of florals, patterns, and color. And artist Lulu de Kwiatkowski's personal mission is to share that joy with the world. The way the world responds to her art proves that it's true: pops of beautiful hues make people happy. You can find replications of her work on everything from bed linens and wallpaper to gilded body art. Since Lulu just did another (her second) collaboration with Clinique—it's this amazing cosmetics case filled with her fall skincare and makeup favorites (no longer available)—we thought it was the perfect time to pick her brain about color, beauty products, and inspiration.
The Wink: Your Lulu DK business branches out in a lot of directions. How do you balance running a business with being an artist?
Lulu DK: I start every day by doing a painting—it's like a meditation for me. Clearing my mind to start the day fresh. This Clinique bag actually came from one of those morning meditation paintings, and is part of my collection of framed prints.
TW: What inspires your art?
LDK: I get inspired by colors of the changing seasons. I am so drawn to nature, and living in L.A. has made the obsession stronger. I'm lucky to have vines, a garden, and wild nature all around to feed my love of Mother Nature.
TW: Speaking of the season's colors: what's your favorite makeup look for fall?
LDK: Gold is my color this season. It makes me feel so good about myself when I wear it. I'm also loving smoky hues like mauve and aubergine, and greys mixed with the gold.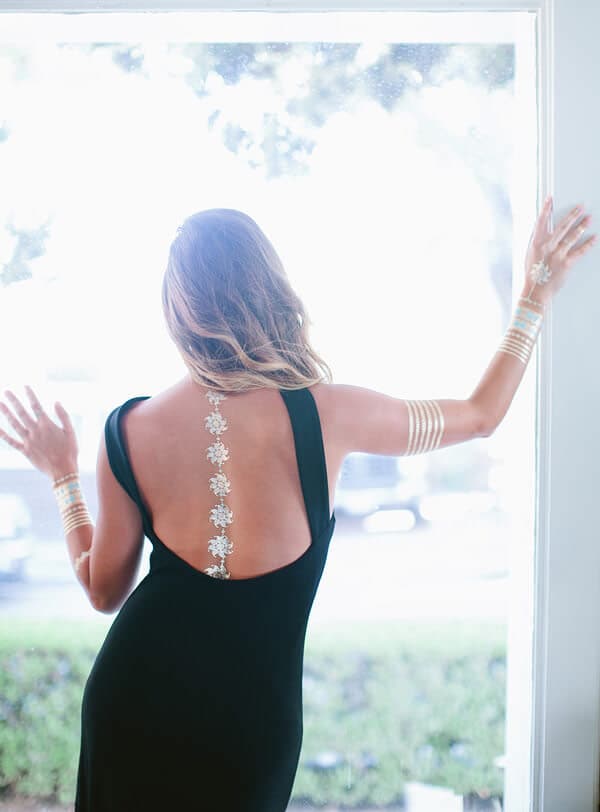 TW: We love your jewelry tattoos! Which is your favorite for a holiday cocktail party look? Any application secrets?
LDK: My all time favorite is our new Moondance line. There are so many fun designs in there that work for so many parts of the body. Simple wrist and ring application is the most obvious but also the most classic and beautiful. Best tip: make sure skin is clean, dry, and lotion-free before applying.
TW: You travel a lot. Packing up beauty products is always a challenge—do you have any tricks?
LDK: I like one clean bag for makeup, wrap liquids in a plastic bag so they don't leak, and use another little bag to keep brushes clean and dry. I always pack my Dramatically Different Moisturizing Lotion+ and Clinique Smart Custom-Repair Serum—the combination keeps me fresh and hydrated on the plane and is the perfect base layer for makeup.
TW: What's the one makeup product you wouldn't leave the house without?
LDK: Ironically, it's makeup remover. I always keep it with me! It's a great way to keep my face feeling clean, even if I haven't been home all day.
Photos courtesy of Lulu DK | Words: Alix Light Perez