What happens when you pair a gorgeous, rising pop star with one of the most creative minds in beauty? Self-expression at its best. Click through our killer interactive music video of all four (yes, four!) different remixes of Zara Larsson's hit song, Lush Life, and you'll see what we mean. Whether you're feeling chill and low-key or want to get pumped up for a party, between the acoustic, pop, country, and club mixes, there's a music genre—and makeup look—to fit your mood.
"The world is in motion all the time, we're constantly changing. So why should our makeup always be the same?" says Alice Lane, the New York City-based makeup artist behind these looks. The same can be said for music. "Lush Life is all about living for today and having fun," says Zara, whose infectious song is #1 across Europe and steadily climbing the charts here in the States. "The music video wasn't about getting into characters," says Alice. "It was about getting into moods. Each persona expresses a part of Zara."
And as you probably know firsthand, it's lipstick, really, that's the game-changer when it comes to creating a certain look. One swipe of color can change everything. "The Clinique Pop lip colors are amazing," says Zara. "I wear pinks and nude colors the most, but I loved the dark plum look in the video—it was so different!"
Zara and Alice both told us the same thing, essentially: you might feel differently every single day. Embrace it. "There's nothing written in stone about what is beautiful," says Alice. "I love makeup as a way to express mood, because it isn't permanent. And behind it all, there is always your beautiful face." Or in this case, there is always Zara Larsson's beautiful face—and we're talking Zara Larsson, real person, not just Zara the superstar. "I use makeup every day. Sometimes it's a lot, and sometimes it's almost nothing," she says. "Whatever my mood, makeup helps me feel confident. I do it for myself."
Here's how to get Zara's four different Lush Life looks.
The Bare Look
In Zara's stripped-down, acoustic version of Lush Life, she's wearing The Bare Look. With painterly, soft shades of nude and blush, it's laidback yet put-together and natural.
Eyes: "Keep everything very soft and blended. Use a wash of sheer, white shadow like Lid Pop in Vanilla Pop on your lids," says Alice.
Cheeks: "Don't forget the blush. It brightens, contours, and lifts the face. I blended Cheek Pop in Ginger Pop high on the apples of Zara's cheeks."
Lips: Apply lip liner in a natural shade, such as Quickliner for Lips Intense in Intense Blush. "Top with a nude shade of glossy liquid lipstick like Clinique Pop Lacquer Lip Colour + Primer in Wink Pop. Focus it on the center of your lips to add volume and dimension."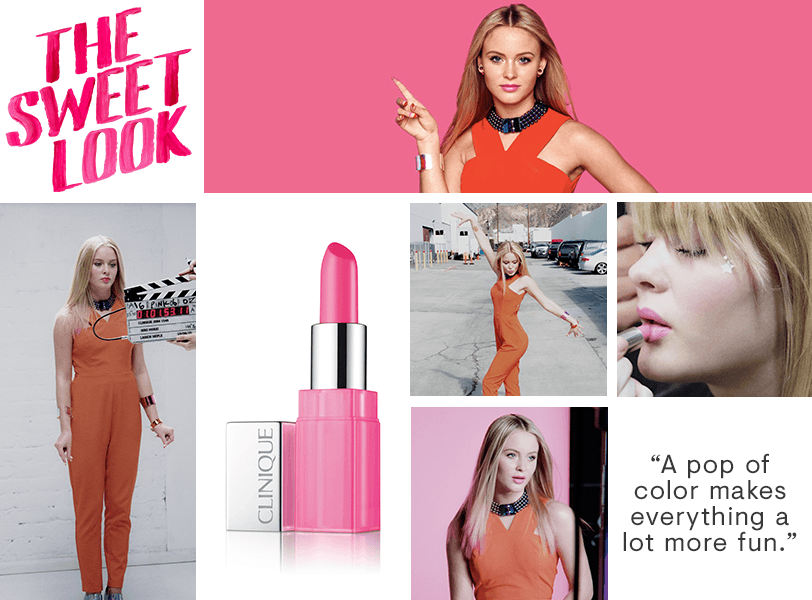 The Sweet Look
Bright and happy: Zara's pop version of Lush Life has amazing energy. The same can be said for The Sweet Look, which has major lashes and a punchy pink lip.
Eyes: First, blend an off-white shadow, Lid Pop in Cream Pop, onto lids. "For a '60s pop, babydoll look, apply three coats of High Impact Extreme Volume Mascara—and give lashes a little bit of time to dry between each coat. That's how you get major definition," says Alice.
Cheeks: For a natural, rosy flush, sweep just a touch of Cheek Pop in Plum Pop onto the apples of your cheeks.
Lips: First, line and fill in lips with Quickliner for Lips Intense in Intense Hibiscus. Top with a vibrant-but-sheer lip color. "Clinique Pop Glaze Sheer Lip Colour + Primer in Bubblegum Pop is really great because it's so moisturizing," says Alice. "Don't be shy with the application, and remember to touch up throughout the day or night so you keep that pretty pop of color."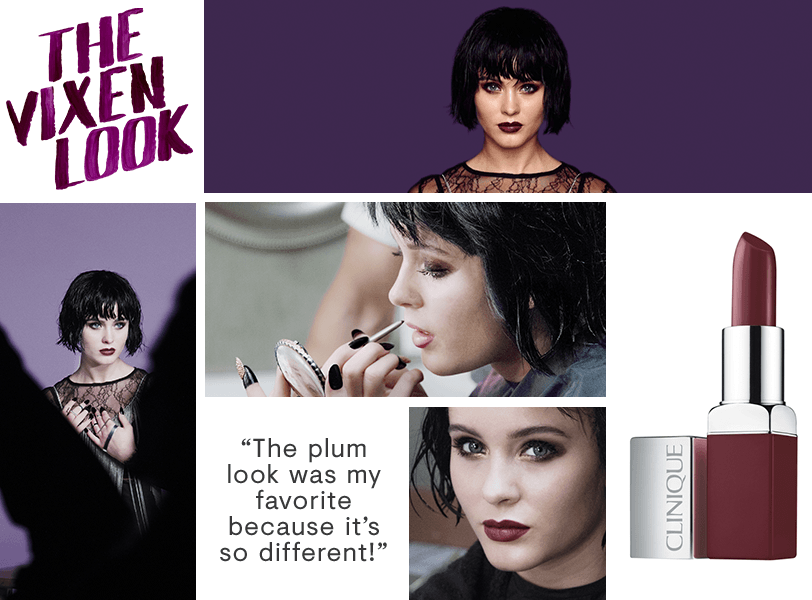 The Vixen Look
Zara's electro-dance Lush Life inspired The Vixen Look for a fierce, fashion-tribe vibe. Balance out your dark eye makeup with deep-hued lips, and don't forget the pretty touch of gold.
Eyes: "Line top and bottom lash lines with Quickliner for Eyes Intense in Intense Ebony. Blend well. Next, sweep Lid Pop in Cocoa Pop on lids and under lower lashes, then blend well (again). Picture the smoky color like a poof on the eye, not a boom. Gold shadow on the inner corners softens everything and keeps the look from being goth," says Alice. "Don't be afraid to make a mess; you can always clean things up with a cotton swab and makeup remover." Brush on a few coats of Chubby Lash Fattening Mascara in Jumbo Jet.
Cheeks: Add a subtle pop of color—and brighten the mood a little bit—with blush swept sparingly onto your cheekbones.
Lips: It's all about precise definition and a powerful color. "Make a sharper line than usual with your lip liner. Exaggerate the points at the cupid's bow, and draw the outline in straight(er) lines. Fill in the color, and top with a velvety, ultra-flattering plum lipstick like Clinique Pop Lip Colour + Primer in Berry Pop so you have layers of pouty dimension."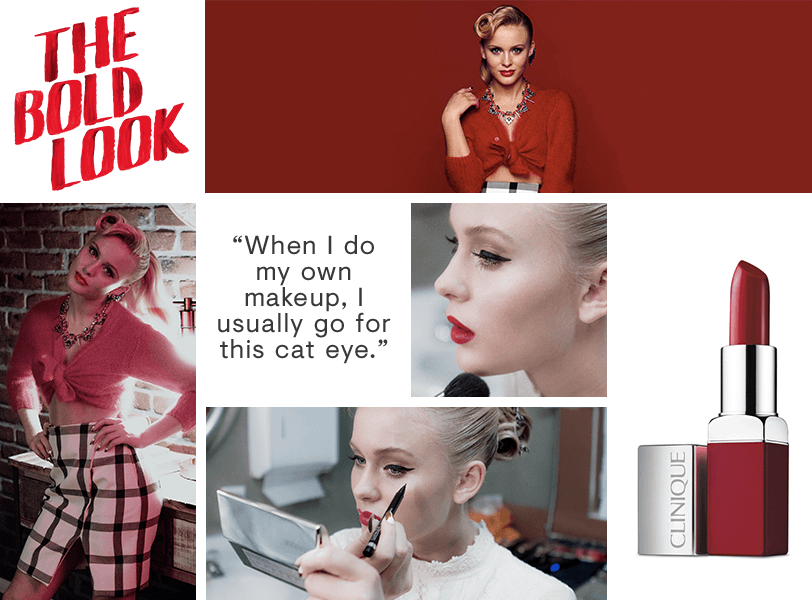 The Bold Look
The country version of Lush Life has Zara in The Bold Look—a total showstopper. Flirty eyeliner and a high-voltage red lip come together for a look that's sexy-confident.
Eyes: "Eyeliner alone can express so much. After I drew the initial line with Pretty Easy Liquid Eyelining Pen in Black, going up just a bit at the outer corners, Zara actually took the pen from me and dragged out the line to make it more dramatic. She knew what she liked and what she wanted," says Alice. Take a cue from Zara, and extend your own liner to your liking. Follow with multiple coats of High Impact Mascara, focusing on your upper lashes. Tint, tame, and fill-in brows using a light hand and Just Browsing Brush-On Styling Mousse.
Cheeks: Use a peachy shade of powder blush, and tap it on with your fingers. Place the color higher on your cheeks to balance out the bold lip.
Lips: "Zara knew exactly what she wanted for lips, too—she wanted a statement. And Clinique Pop Lip Colour + Primer in Cherry Pop is fantastic for exactly that. The blue undertones mean this red looks amazing on everyone; and, the lipstick itself is creamy with the perfect amount of light-catching sheen."
Photos: Bill Stepanoski | Words: Alix Light Perez