Many fashion week trends can seem too daring for every day. Take for example, blue eye shadow. It was, by far, one of the hottest color trends spotted on the spring 2016 runways from New York to Milan and everywhere inbetween. Sound scary? Don't walk away just yet.
We gave three totally different style mavens free reign to play with a sea of blue eye makeup and craft their own take on the trend. The surprise? Vibrant shades of shimmering azure, sky blue, and deep denim are both adventurous and totally wearable.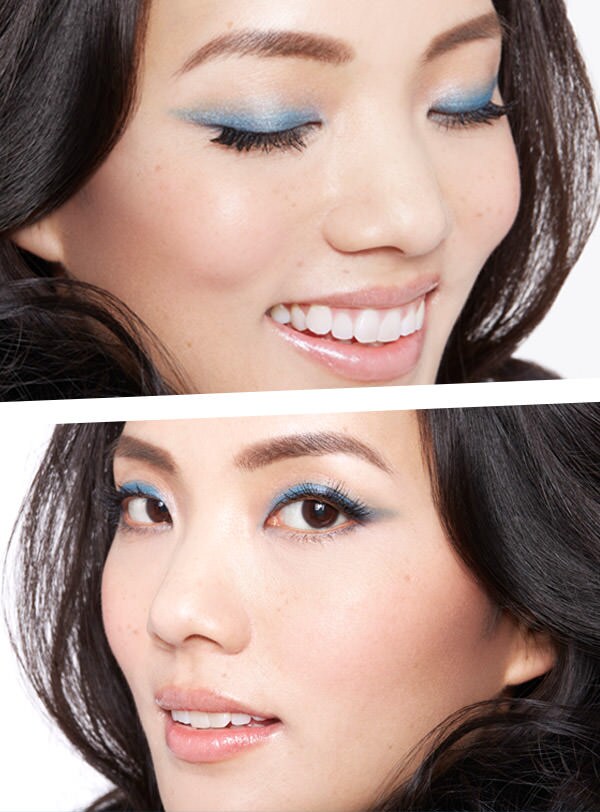 For Sunina Young, having a healthy lifestyle is just as important as having a healthy complexion. This New York City-based fitness instructor and health and wellness blogger is a self-professed skin care junkie—but she also isn't afraid to experiment with eye-catching makeup looks.
Sunina's style: Naturally pretty. Most days, you'll find Sunina in chic workout wear as she bustles all over Manhattan teaching butt-kicking workouts and helping her students get their "om" on. Her blog champions inner beauty and her holistic mind, body, beauty philosophy. "Makeup doesn't have to be serious! I think it should be fun and accentuate what you already have. I also believe in taking care of myself, and makeup is a part of that," says Sunina. The secret to her glow? Yoga Glow, where she combines meditative yoga with a glow-boosting "spa-vasana" facial.
Sunina's take on blue: Ombré azure. An ombré cat eye in azure blue that feels thoroughly 2016, not 1998. "I usually stay pretty classic, but I love experimenting with bolder looks at night," says Sunina. Her final look perfectly combines a classic cat eye shape with an unexpected jolt of electric blue. She made the look infinitely more wearable by softening the edges. "I haven't done blue eye shadow since high school, but now I can actually pull it off in a way that's very soft, fresh, and pretty," says Sunina.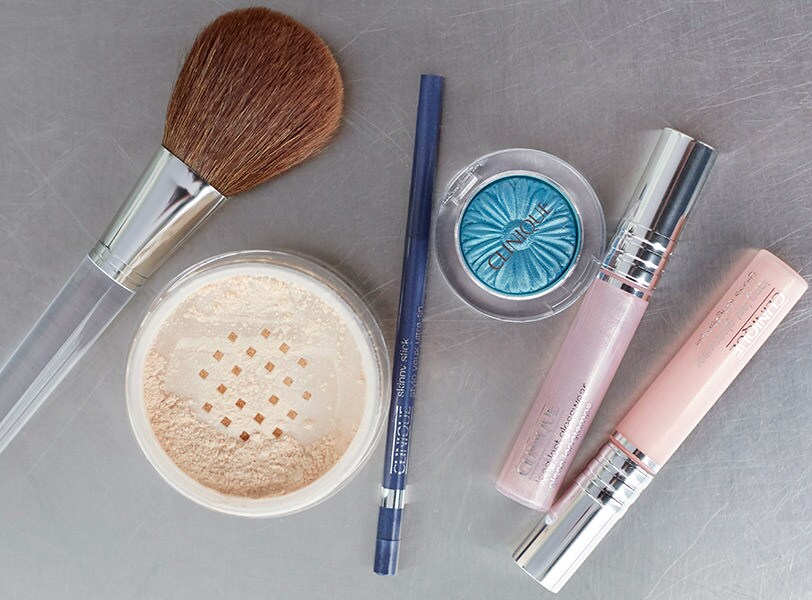 On her namesake blog, Angel Lenise dives deep into her favorite topics, including hip-hop, fashion, and culture. If that weren't enough, she's also a video producer, journalist, discerning fashion maven, and total beauty junkie.
Angel's style: Minimalist chic. She may hail from Texas, but you definitely won't find any cowboy boots in her closet. "I love sleek clothing in shades of beige, blush, and rose. Monochromatic dressing is the best way to always look put-together without having to put in any effort!" says Angel. On her blog, Angel's love of storytelling, hard-hitting journalism, and jaw-dropping fashion all come together. "My passion is bringing depth and an intellectual voice to the fashion space. I'm interested in the stories behind brands, so I try to highlight the business and process behind these creative dream jobs."
Angel's take on blue: Classic denim. What's more chic than a simple, graphic line of navy liner? Angel upped the ante by using two different shades—a dark jean to line her top lashes and a jewel-toned sapphire to line the lower. "My eyes are one of my favorite features and this look is a way to really make them pop. It's perfect for date night because it's super sexy, without looking like you're wearing too much," says Angel.
To get Angel's look: Line top lashes with dark navy liner like Skinny Stick in Skinny Jeans (how apropos), being sure to stay as close to lashes as possible. Thicken the line with an angled brush dipped in midnight blue eye shadow. Angel used Lid Pop in Surf Pop. Keep the line sharp and precise. Then, use the angled brush and a teal shadow, like Lid Pop in Aqua Pop, to line the lower lashes from corner to corner. The two shades should meet at the outer corners of your eyes. From afar, this may just look like one chic shade, but up close, it'll sparkle with multi-layered colors. Don't forget a couple coats of your favorite mascara to finish. Angel kept the rest of her look perfectly nude with buffed skin, softly flushed cheeks, using Cheek Pop in Nude Pop, and a swipe of Long Last Glosswear in Kissyfit.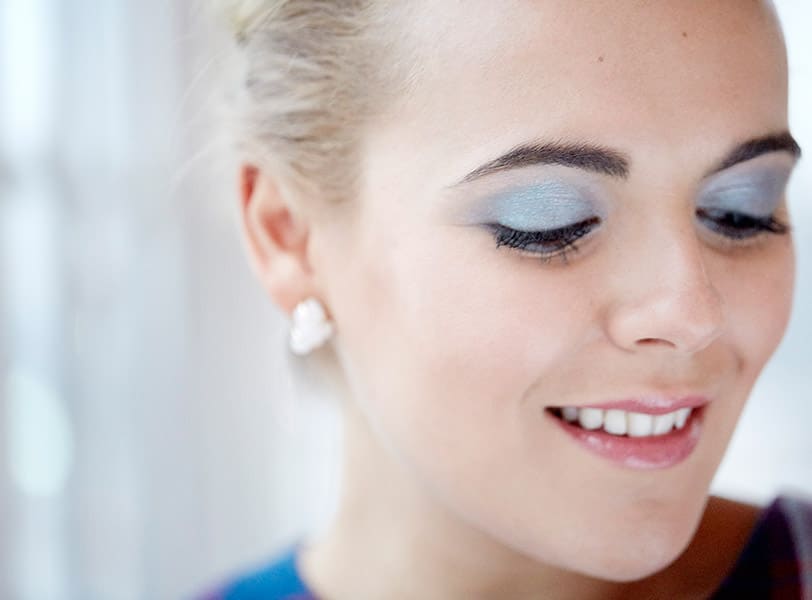 Andrea Maria is a globetrotter, fashion writer, and color adventurist. Her blog, Dear Milano, covers fashion, beauty, travel, and lifestyle and is the go-to in her hometown of Mexico City.
Andrea's style: Ladylike with a modern twist. Take one look at her Instagram feed, and you'll quickly see that Andrea has an unabashed love of vibrant hues. Having grown up in Mexico City and studied fashion design in Milan, it makes perfect sense that she favors all things Technicolor. "When I travel, I see all these crazy inspiring colors, people, and food. Then I go to New York and everyone is wearing black and white. I just want to wear color!" says Andrea. She's known for mixing patterns like the true street style darling she is and switching up her hair color as often as some people change up their nail polish. It's no surprise that she was game to play Runway Your Way with us.
Andrea's take on blue: Sky high. Not one to shy away from bold colors, Andrea fell in love with a shimmery sky blue smoky eye. "I want to wear this every day, it's so fierce," says Andrea. "I think Fashion Week is the perfect time to do something crazy and then just keep it, wear it always, make it yours, " says Andrea.